It took more than a month longer than expected, but we finally got The Full House closed (see all financial results below)…
A lot of things went wrong on the sale of this project — our private lender backed out the day before purchase closing, so we had to pay cash (resulting in lower ROI), the rehab took a little longer than expected (due to the holidays), the first contract fell through, it took awhile to get the second contract, the appraisal came in $10K too low and the buyers financing took a month longer than expected. But, ultimately, we got it closed and made a very decent profit.
Another good point of this project was that it was the first short sale we've picked up, and we've realized how lucrative short sales can be these days.
Here is the full final analysis for this one…
Timelines
Here are the key timeline milestones:
Purchase Offer Date: 9/30/2011
Purchase Closing Date: 12/5/2011
Rehab Completion Date: 1/5/2012
Sale Listing Date: 1/5/2012
First Sale Contract Date: 1/19/2012
Final Sale Contract Date: 2/22/2012
Sale Closing Date: 4/20/2012
Financials
Here is the breakdown of financials for this project: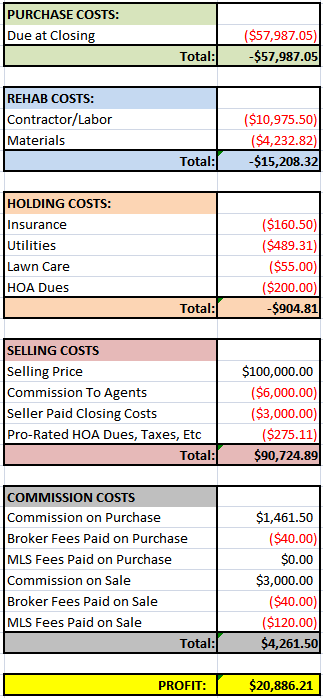 Our profit on this one was nearly $21,000, which is great for a simple cosmetic renovation like this. Our budget was $15,000, and we ended up about $500 over that, which was essentially the cost of the last minute repairs we needed to complete to satisfy the underwriter. If the appraisal had come in at the original purchase price ($110,000), we would have made an extra $6,000, but we knew that was going to be a stretch and were prepared for the low appraisal.
Final Statistics
Here are just some of the final statistics that I've been tracking for all my projects, and that summarize the success/failure of each project pretty well:
From Offer to Purchase Time: 66 Days
Rehab Time: 22 Days
Selling Days on Market: 48 Days
Selling Close Time: 58 Days
Total Hold Time (Close to Close): 137 Days
Total Profit: $20,886.21
Return on Investment (ROI): 28.74%
Annualized ROI: 76.56%