We closed on the sale of The Grandma House today…
This was supposed to be our first rehab/flip in Maryland, but after we purchased it about 2 weeks ago, we realized that we were ridiculously busy with other stuff, and wouldn't have time to start the rehab for a month or so. In the meantime, we decided to list it on the MLS and see if another investor might be interested in buying it. Turns out that we couldn't get any other investors interested at the price we were asking, but we did get an owner occupant who wanted to buy it.
They made a cash offer, did a quick inspection and then closed a week later.
The one hiccup in this whole project was that the person we purchased the house from didn't take 90% of her stuff when she left. She literally left many tons of furniture, trash, boxes of personal belongings, games/toys, food, etc. We had to spend $1200 (plus about $1000 in sellable items) to have someone haul all the trash away.
I truly amazed we were able to wholesale this property for the price we did, but I'm thrilled that it doesn't have to sit for another month while we're too busy too busy to start the rehab. Here's how the final numbers break down: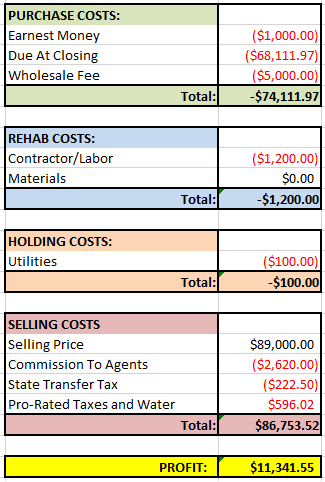 We don't have a final utility cost, but $100 is probably a reasonable estimate.
{ 3 comments }