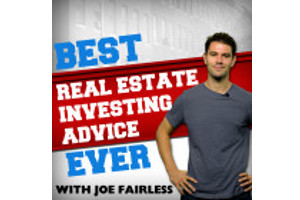 I get a LOT of requests to do real estate podcasts, and while I'd love to do them all, the truth is I'm tremendously introverted and talking about myself for 30 or 60 minutes isn't fun for me. So, I tend to be pretty picky about which ones I do.
Joe Fairless has a great podcast and the best part about it is that he likes to get to the point — every episode is focused on getting some basic information from his guests. The main piece of information he's looking for is, "What is your best piece of real estate investing advice?" I love that format, and I especially love that I didn't have to figure out what to talk about for an hour… 🙂
Anyway, Joe just released my episode of his podcast, and while I probably won't listen to it (I hate listening to myself), I hope you'll check it out. If it's half as good as his other episodes, I have a feeling you'll enjoy it…
JF217: You Only Have ONE Chance to Make a Good Flippin' Impression
Want to check out more of Joe's previous great episodes and awesome guests? Check them out here…
Let me know what you think…and if you think I should be doing more of these things???