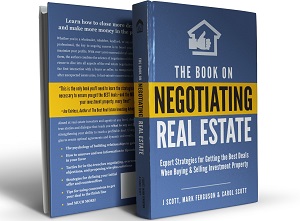 Yesterday we announced the release of our new book: The Book on Negotiating Real Estate!
CLICK HERE TO BUY IT NOW ON AMAZON!
In 2013, I released my best-selling book, "The Book on Flipping Houses." Since then we've sold over 90,000 copies and — based on the feedback I've received — the book has literally impacted the businesses and lives of thousands of investors around the country.
But, the one aspect of investing that the book didn't delve into deeply enough was how to get the most — and the very best — deals when buying and selling investment property. Whether you're working directly with buyers/sellers on unlisted properties or whether you're working through real estate agents on MLS listed properties, a lot of investors are struggling to find and close deals these days.
The Book on Negotiating Real Estate will teach you how to maximize your deal flow, and your profits, when buying and selling property. Combining the science of negotiating with in-the-trenches real estate advice, the book contains true-life stories that highlight how strong negotiation can result in more and better deals, as well as lots of sample dialogue that will teach you both what to say and how to say it in order to maximize your chances of reaching a profitable deal.
Here are some of the things you'll learn from this book:
* The principles behind successful negotiation
* The psychology of building relationships to gain negotiating leverage
* How to uncover and use information to tip negotiating outcomes in your favor
* Strategies for defining optimal offers and counter-offers
* Tactics for in-the-trenches negotiating and overcoming objections
* Strategies for using concessions to get your deal to the finish line
* Tips for overcoming tactics employed by those on the other side
* How to overcome the challenges of making/receiving offers through agents
* Tactics to renegotiate issues that arise from contract contingencies
* Strategies to get the best of it when buying properties from banks and HUD
* And MUCH MORE!
My co-authors, Mark Ferguson from InvestFourMore.com and my marketing genius wife Carol, and I spent the past 18 months creating this book. Not only do we think you're going to love it, but we think it will help you generate lots more deals — and lots more money — in your investing business.
It's available in both paperback and Kindle formats — check it out HERE…