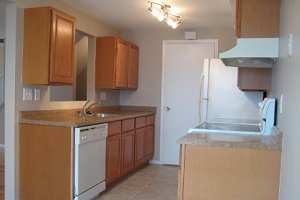 I mentioned yesterday that not only was I planning to restart this blog/website, but that we were also planning to focus some of our efforts on building a long-term rental portfolio. We actually purchased our first long-term rental property about a year ago, but are just getting our first tenants in this week…I'm going to use this post to catch you up on all the details, the pictures, the financials and the expectations for this deal. I've also set up an "Our Rentals" Page, where I'll continue to track all the expenses, income and financial details of this property long-term.
Analyzing Buy-And-Hold Deals (FREE EBOOK!)
Before we delve into the details of this deal, it's important to understand how buy-and-hold deals are typically analyzed and evaluated.  Unlike flip deals — where the important question is "How much profit will I make!??!" when it comes to buy-and-hold deals, the more important question is, "What will my return on investment (ROI) be?"
There are many different ROI measurements that can be used, and better understand how ROI is typically evaluated for rental properties, I turned a tutorial I created several years ago into a Kindle eBook that discusses the topic in detail.
You can download the free eBook here (all I ask in return is that you leave an Amazon review for me when you're done reading):
An Introduction to Real Estate Investment Deal Analysis
The goal was to make the Kindle book free forever, but Amazon doesn't allow that — the best I could do is to make it free for a short promotional period (the next 72 hours), and then after that, I'm forced to charge the minimum, $.99. So, please download it now!
If you have any general questions about analyzing deals, feel free to shoot me an email or post a comment below.
Background on the Deal
At the beginning of 2014, I received an email through a local real estate investor group mailing list.  The email was as follows: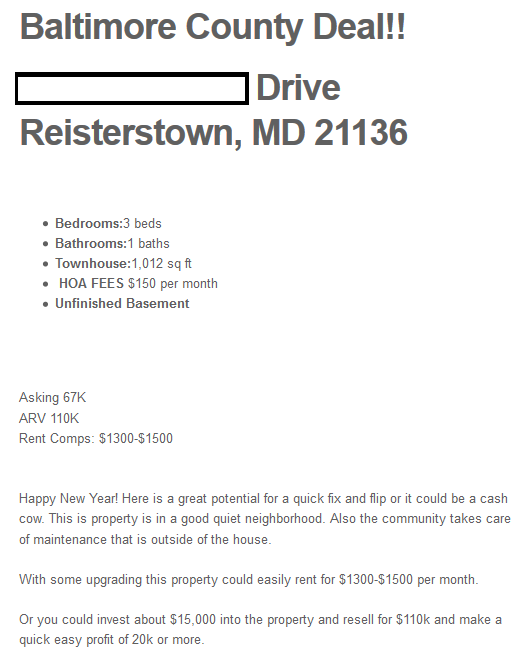 Now, I always assume the numbers in a wholesale ad are inflated, but I jumped onto Zillow and the MLS, and a quick seach indicated that the ARV was probably pretty reasonable (I got about $107K). While the rehab estimate was probably a little low based on the pictures and based on the fact that the basement would need to be finished to hit that ARV, some quick number crunching indicated that it might make an average flip deal if I could get it for a few thousand less than asking.
In addition, while I had no idea if the rental numbers were accurate, if they were, it didn't take a complicated spreadsheet to realize that this property could hit the "2% rule" and make a great rental as well.  I immediately emailed the wholesaler and asked if I could see the property. She said we could the next day at 3:00pm, which worked for my wife and me, so we scheduled a meeting for the following day.
The next day, my wife and I met the wholesaler at the property…the sellers were there as well. The house was owned by an older woman who passed away, and her daughter and son-in-law were looking for a quick sale.
We did a quick walk-through (I never like walking through with sellers in the house), and everything seemed very straightforward. It was a 3/1 (all on the second floor) built in the late 1970s, with a living room, eat-in kitchen area, small galley kitchen and walk-in pantry on the main level and an unfinished basement. The first two levels were just over 1000 square feet, and the basement (which was very clean) was about 500 square feet.
The townhouse is in an HOA community, and the HOA is responsible for all exterior maintenance. The roof was less than 5 years old, the vinyl siding was in great shape and despite all the recent snow, the walks were perfectly clean and clear (all a good sign). On the interior, the house was in very good shape, though it needed a full cosmetic renovation. The HVAC was less than 10 years old, the water heater was less than 4 years old, and the plumbing/electrical all looked to be in good shape.
Based on the rental numbers the wholesaler threw out ($1300-1500/month), I decided that we'd need to buy the property for under $60,000 to make it a great rental.  My wife and I walked outside with the wholesaler and told her that we'd need it for $58,000 for it to work for us (she had mentioned a sale price of $67,000). She said she'd talk to the sellers, see what she could do and get back to me.
About an hour later, she called to tell me that $58,000 would work, and would send a contract over in the next 24 hours along with all the title company and closing information.
Analysis of the Deal
Here were the numbers as best as I could figure at the time:
Purchase Price:  $58,000
Closing Costs:  $2,000
Rehab Costs:  $20,000
For a total purchase and renovation costs of about $80,000.
A little bit of investigation indicated that I could probably rent the property for between $1400-1500
And doing some more research, I determined that my annual expenses would look a little bit like this: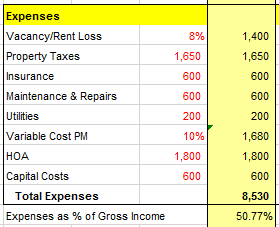 The expenses analysis was right about where I would have expected it to be based on the "50% Rule," so that was a good indication that the numbers probably weren't too far off.
Based on the purchase/rehab costs, the potential income and the likely expenses, here is what the analysis of the deal looked like if we paid all cash and didn't get a loan on the property:

Not too bad — that's over 10% return without any leverage. With a loan on the property, I had a feeling the numbers would look even better!
And they did. Assuming we could refinance out 80% of our investment after 6-12 months using a typical portfolio loan (small bank investment loan), here's what our returns would look:

That's nearly a 19% return…that's a great deal in today's market, at least in my area and for an almost completely passive deal. So, we decided to buy it, and closed on the purchase in January 2014.
Pictures & Renovation
Here is what the house looked like when we bought it:
Over the next 6 weeks or so, we did a full cosmetic renovation, including knocking a hole in the wall between the kitchen and living room and finishing the basement. We spent just over $18,000 for the rehab, broken down as follows: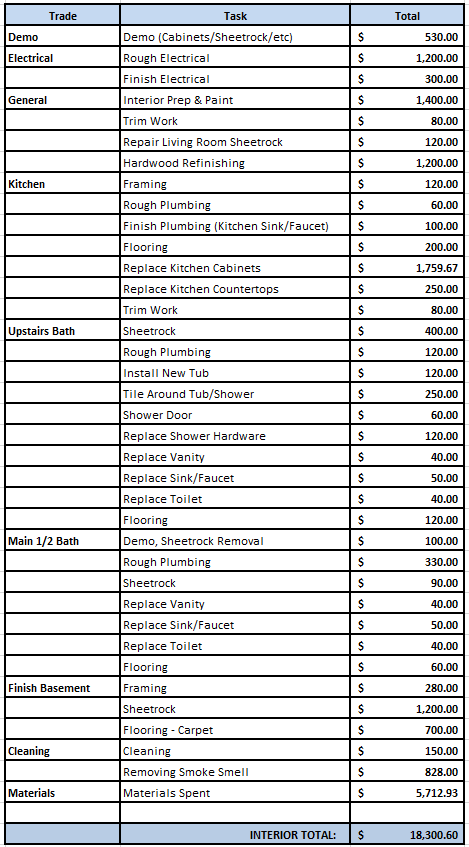 After the rehab, this is what the property looked like:
Getting It Rented
Unfortunately, the momentum stopped in March 2014, after we got the property rehabbed. I spent about a month trying to get the property rented myself (without a property manager), but given that it was about 45 minutes from my house — and given that we were in the process of building our personal residence at the time — I just didn't have the energy to keep driving back-and-forth to meet and screen tenants. I kept thinking I'd get around to getting a tenant in there, but it never happened.
Then, on January 1, 2015, I finally decided it was time to hire a property manager. I found a reputable company in my area, turned over the listing to them on New Year's day, and they agreed that $1450/month was the right number to be asking. It was a very bad time of year to try to find new tenants (especially given all the snow we've had this winter), so it took about 6 weeks to find qualified renters. But, by mid-February, they had tenants lined up. It's a one-year lease at $1450/month (tenants pay all utilities), and they moved in this past weekend, on February 28.
Current Analysis
Now that we have all the numbers leading up to the house being rented, we can run another analysis using the actual numbers, and hopefully it's pretty close to our original analysis. Here's what the new analysis looks like:

We're a little better than our original pro-forma analysis, at about 11% return. Then, if we assume we will refinance at some point soon using the same terms as in our original analysis, the numbers look like this:

That's over 22% leveraged return, which I'm thrilled with!
Now, all that said, there are other ROI numbers I like to look at with every analysis. I'm not going to jump in to those here, but over the next couple of posts, I'll detail some additional analysis I've done on the deal.