We sold The Flood House today…it's was a great project, and the team and I are very happy with the overall results (see Schedule and Financial Results below). In fact, in retrospect, this is probably one of my favorite projects and houses yet…
After the flooding in our area sixteen months ago, we've been cautious about buying any properties that incurred major flood damage. Not so much before we were concerned about the rehab/damage, but more because of our concern that the stigma associated with the flood areas would impact our ability to sell the houses.
But, we took a chance on this property, and we were pleasantly surprised. First, we made certain to find a nice neighborhood, where many of the existing owners chose to repair and remain in their homes after the flood…this ensured that there was a decent community around which to rebuild the neighborhood. Secondly, we made certain to find a neighborhood that didn't look devastated from the exterior, despite the interior of the houses needed complete gut rehabs.
Both of these decisions were ultimately good, as we found numerous potential buyers interested in the property, and we were able to get it under contract within a couple weeks of listing it — even during the winter holidays.
The biggest issue we faced was the appraisals. With so few resales in this area in the past year and a half, there weren't many comps for this property, but ultimately we got that to work out as well. Ultimately, it would have been difficult to get this property to appraise for any higher than our sale price, but that price was enough to generate a decent profit on this deal.
It's safe to say that — if the conditions are right — we'll buy future properties in this neighborhood and other flood neighborhoods in the area.
Now, on to our final analysis numbers:
Timelines
The rehab on this one was one of the largest we've ever done, but the total hold time on the property was actually pretty short — just 100 days. While the rehab took about 6 weeks, we were able to get it on the market, under contract and sold within another 6 weeks.
Here are the key timeline milestones:
Purchase Offer Date: 9/14/2010
Purchase Closing Date: 10/19/2010
Rehab Completion Date: 11/24/2010
Sale Listing Date: 11/26/2010
First Sale Contract Date: 12/20/2010
Final Sale Contract Date: 12/20/2010
Sale Closing Date: 1/27/2011
Financials
Here is the breakdown of financials for this project: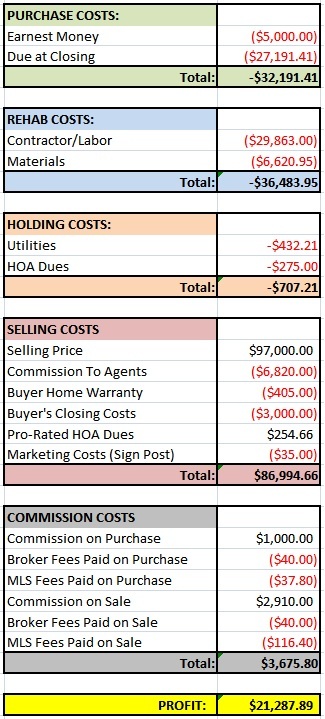 We will clear just over $21K on this project (after including unpaid utility bills we're waiting to receive). Our ROI on this project was about 31% (we paid all cash and used no leverage on this project) and our annualized ROI was just over 110%.
Final Statistics
Here are just some of the final statistics that I've been tracking for all my projects, and that summarize the success/failure of each project pretty well:
From Offer to Purchase Time: 35 Days
Rehab Time: 36 Days
Selling Days on Market: 24 Days
Selling Close Time: 38 Days
Total Hold Time (Close to Close): 100 Days
Total Profit: $21,287.89
Return on Investment (ROI): 31.08%
Annualized ROI: 113.44%