I realize that all my recent posts have been about The Escher House, but that's because it's the only house we have left under renovation, and because it's been an absolutely crazy project the past couple weeks.
As many of you probably know, the home-buyer tax credit is scheduled to end on April 30, which means that any houses that haven't been put under contract to sell by then will likely have a harder time being sold (there will be many fewer buyers after April 30). With that said, we've been doing everything possible to get this house on the market as quickly as possible, to give us the most opportunity to get it under contract before the end of the month.
Normally, our full rehabs take about 6-7 weeks to complete…we're trying to finish this one in about 4 weeks. To do that, we've had contractors tripping all over one another, we've had complex scheduling issues, we've had early mornings and late nights, and we've had lots of little frustrations that have added up to big annoying frustrations.
But, ultimately, we're about 24 hours from finishing up. Which is amazing given that just 8 hours ago our entire front and back yards were a muddy mess, we had no running water (our landscapers accidentally cut the main water line), we had no electricity (our electrician wasn't able to finish his work due to wet hardwood floors), and we didn't have gas working in the house! By the end of the day, the exterior of the house was complete (other than the back deck), the house was cleaned, and we were down to just a small list of last-minute items. Those items, along with moving the staging furniture into the house, will be tomorrow's job.
With respect to the landscaping issues, we finished leveling the back yard and building the retaining wall, we laid sod, mulch, wood-chips and pine straw around the exterior, we fixed the water problem in the front yard/driveway, and we cut down a number of trees. We still have a big back deck to build, which will likely take a couple days, but it shouldn't affect our ability to get this house staged and on the market in the next day or two.
If you've been following along with the landscaping saga, here are some pictures of the almost final work…
Here are pictures of the back yard with a freshly sodded lower level and the mostly-flat large upper level: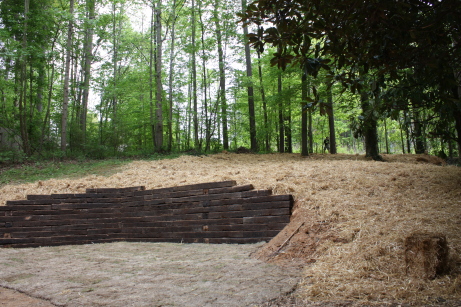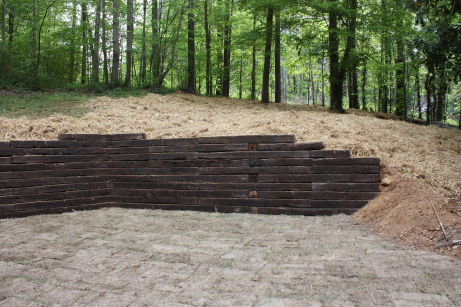 Here is a picture of the driveway repairs, with a French drain leading from under the driveway down to the creek next to the house (the piece of wood you see is a form for the concrete…it will be removed):