Dear Readers,
In the two years I've been writing this blog, I've made a point to try not to use it as a way to make money or to benefit myself personally…I like giving back, and I sincerely hope that everyone who reads this blog finds it worthwhile…
But, on this one occasion, I'd like to ask a personal favor from my readers! It's a silly favor, but I'll ask anyway…
We entered our baby in a local radio station contest looking for "the cutest baby in Atlanta". Of the 1200 entrants, it's been narrowed down to the Top 10, and my little boy (his name is Chase) is one of those 10…
For the next week, anyone registered with the radio station's website can vote once per day for the Top 10…the baby with the most votes come next Friday wins a little prize package (and bragging rights, of course).
My favor request is that you follow the steps below to register with the radio station website and then vote for Chase once per day for the next week. It will probably take a couple minutes to register, do your email confirmation and vote the first time, but after that you should be able to vote each day in about 20 seconds.
So, if you've found this blog informative, useful, inspiring or beneficial in any way, and you want to return the favor, now's your chance! 🙂
Here's what you need to do to register and vote:
1. Click Here
2. Click on "Not a member yet? Sign up now!"
3. Fill out the one page form and click "Join the Club"
4. Check your email for a confirmation email and click on the confirmation link
You're now registered, and can start voting! To vote for Chase (do this once per day):
1. Click Here
2. Log in (if you're not already)
3. Scroll down until you see Chase's beautiful face (he's currently the second baby listed)
4. Click the radio button to the left of Chase's picture (see pic below to know which baby you're looking for)
5. Scroll to the bottom and click the "Enter" button to register your vote
Again, you can vote once per day between today and next Friday (May 7). I really appreciate your help!
And here's Chase's pic (the first pic is the one is the one you'll see in the contest):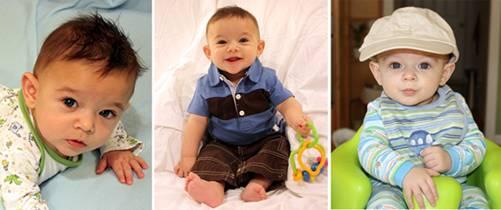 Chase