We closed on the sale The Hat Trick House today. Below is a final analysis of the deal, including financial results and statistics…
This was a tremendously smooth deal and an easy closing, which was surprising given that the buyer used a lending program I'd never heard of before (NACA). As I mentioned in a previous post, NACA is for borrowers with less-than-stellar credit, and relatively low income. When I saw the closing docs today, I was even more amazed. NACA allows buyers to use seller paid costs to buy down the interest rate on the loan, providing low loan payments. In the case of our buyer today, her 30-year fixed interest rate was .125% (yes, an eighth of a point!).
The buyer ultimately got the house for about $92K (a $113K purchase price minus $21K in seller paid closing costs), but given that interest rate, with all taxes and insurance included, her monthly payment was under $500 per month! Unbelievable. Even more unbelievable, the total interest on the loan, over the entire 30 year term, is only about $2400. Compare that to a typical 5.5% interest rate 30-year fixed loan, where the buyer will end up paying as much in interest as the amount of the loan (so, a $100,000 loan will ultimately cost $200,000 to repay).
There are some restrictions though. For example, the buyer can never rent the house out as an investment, and she has to do some "community service" (I'm not sure exactly what qualifies) as part of the NACA process. According the closing attorney today, less than 1% of all NACA borrowers default on their loan, which means this program is doing a much better job of screening applicants (and helping them) than the rest of the lending industry.
Anyway, on with the analysis…
Timelines
This was a pretty typical project in terms of the timeline. It was a quick rehab that we dragged out a bit because we had other projects going on, and then we were able to put it under contract right around the 90 day mark. While it wasn't an FHA buyer in this case, I'm always happy when we can get a house under contract by the three month mark, as that's the minimum turnaround time for an FHA purchase.
Here are the key timeline milestones:
Purchase Offer Date: 4/1/2009
Purchase Closing Date: 4/20/2009
Rehab Completion Date:6/4/2009
Sale Listing Date: 6/5/2009
Sale Contract Date: 7/16/2009
Sale Closing Date: 8/17/2009
This closing was supposed to happen a week ago, so while we held the house for a total of 119 days, we probably could have shortened it to 112 days had we been more persistent.
Financials
We bought the property for $45,000. We sold the property for $113,500, but paid over $21,500 in closing costs to the buyer. It was a relatively small rehab for us (about $15K), and everything else about the project was pretty standard.
Here is the breakdown of financials for this project: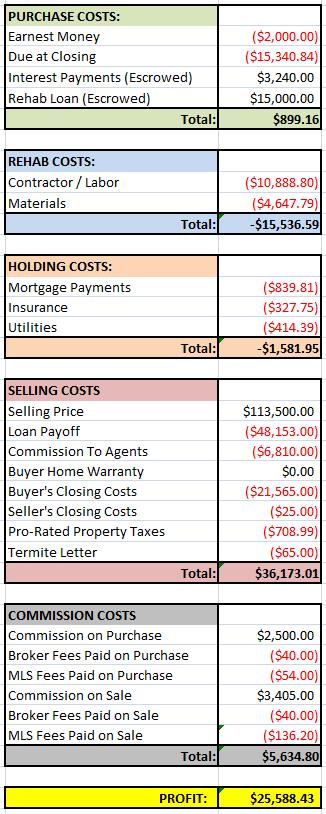 In terms of our profit, I'm very happy about making over $25,000 on this one. When we first purchased the property, I was pretty sure that we could hit our $20K profit target, but there were times during the project when I was concerned it might sit on the market for a while, or it might have difficulty in appraising for the sale price.
In terms of ROI, my total investment into this property was just under $14K; this puts my ROI at over 185%, and adjusted for the time we held the property, our annualized ROI is right about 570%. As usual, not bad on our ROI!
Final Statistics
Here are just some of the final statistics that I've been tracking for all my projects, and that summarize the success/failure of each project pretty well:
From Offer to Purchase Time: 19 Days
Rehab Time: 44 Days
Selling Days on Market: 41 Days
Selling Close Time: 32 Days
Total Hold Time (Close to Close): 119 Days
Total Profit: $25,588.43
Return on Investment (ROI): 185.24%
Annualized ROI: 568.18%