We closed on the sale of The 16-Bid House today. It was a partial rehab and quick resale to another investor. Below is a final analysis of the deal, including financial results and statistics…
Timelines
Despite the fact that it took over six months to get the purchase of this property closed, the rehab and resale of the property went extremely quickly and smoothly. In fact, between purchase closing and sales closing, only 15 days elapsed. We spent about a week doing minor rehab (would have been faster if we didn't have bad weather), spent about 3 days marketing it, and then closed within 5 days of having a signed contract.
Here are the key timeline milestones:
Purchase Offer Date: 3/2/2009
Purchase Closing Date: 9/3/2009
Rehab Completion Date:9/10/2009
Sale Listing Date: 9/11/2009
Sale Contract Date: 9/13/2009
Sale Closing Date: 9/18/2009
Financials
We bought the property for $39,000. We spent about $4450 in rehab costs (painting and repairing siding and drywall). We sold the property for $55,000. Pretty typical for what I refer to as a "prehab" deal (basically doing just enough rehab to get a lot of investors interested).
Here is the breakdown of financials for this project: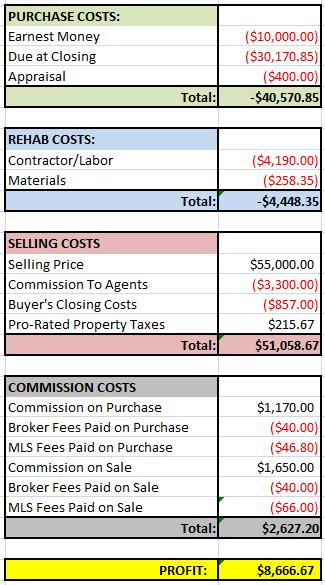 In terms of our profit, I'm pretty happy with the $8600, especially given the little work we had to put into the renovations and marketing. As someone commented on in a previous post, we could have made more money had we fully rehabbed it ourselves and then resold to an owner occupant.
Had we done one of our full rehabs, our rehab costs would have been closer to $15K, and we likely would have made between $20-25K in profit, depending on how aggressively we priced it. It only would have been an extra 2 weeks worth of rehab effort for our contractors, but we wouldn't have been able to sell it to an FHA buyer (most of the buyers around here) until mid-December; and with the holidays, we realistically wouldn't have it sold and off the books until February.
In terms of ROI, my total investment into this property was right around $44K (we paid cash). This puts our ROI at only about 20%, but if you adjust it for the fact that we only owned the property for two weeks, our annualized ROI is right about 480%. I'm certainly happy with that…
Final Statistics
Here are just some of the final statistics that I've been tracking for all my projects, and that summarize the success/failure of each project pretty well:
From Offer to Purchase Time: 185 Days
Rehab Time: 6 Days
Selling Days on Market: 2 Days
Selling Close Time: 5 Days
Total Hold Time (Close to Close): 15 Days
Total Profit: $8666.67
Return on Investment (ROI): 19.73%
Annualized ROI: 479.99%