This is going to be a quick Final Analysis post, as it's for The Roach Duplex, a property we've essentially put no time, work or energy into…
In fact, aside from visiting it twice before purchasing it, putting a new lockbox on it after purchasing it, and meeting the buyer there to sign papers the other day, I actually haven't spent any time at the property. In total, I've spent about 15 minutes at the property, and about 2 hours on the entire investment, from beginning to end. So, regardless of my profit on this one, I knew it would be worth it.
Anyway, here is the run-down of the project results, with the final set of statistics at the bottom…
Timelines
We purchased this property with the intent of turning around and selling it to another investor. While I was hoping to do that quickly, I certainly wasn't in a rush, and it took a couple months for that ultimate investor to come along. Overall, I held the property for 86 days, during which time we probably had 50 people look at it and three put offers on it.
Here are the key timeline milestones:
Purchase Offer Date: 1/13/2009
Purchase Closing Date: 2/16/2009
Rehab Completion Date: N/A (No Rehab)
Sale Listing Date: 2/16/2009
Sale Contract Date: 5/8/2009
Sale Closing Date: 5/13/2009
The nice thing about the cash sale to another investor is that it only took five days to get from the offer to the close, a refreshing change from all the hassles we deal with by generally selling to owner occupants.
Financials
We bought the property for $22,000. We sold the property for $28,500. And between the purchase and sale, the only costs we incurred were the purchase closing costs, the price of a lockbox, the price of a few signs, and property taxes.
Here is the breakdown of financials for this project: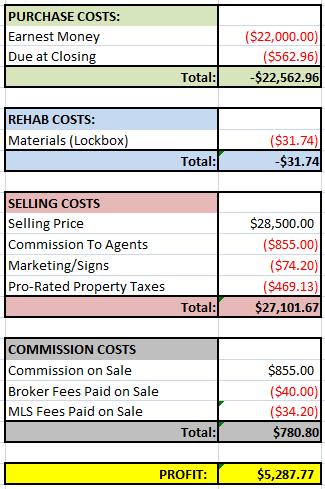 These are the final numbers for the project. While the $5K profit is by far the smallest we've made on a property, the fact that we did essentially zero work on this one makes it the most impressive in terms of overall ROI.
In terms of purely financial ROI, my total investment into this property was $22,594.70; this puts my ROI at over 23%, and adjusted for the time we held the property, my annualized ROI is right about 100%.
Final Statistics
Here are just some of the final statistics that I've been tracking for all my projects, and that summarize the success/failure of each project pretty well:
From Offer to Purchase Time: 34 Days
Rehab Time: 0 Days
Selling Days on Market: 81 Days
Selling Close Time: 5 Days
Total Hold Time (Close to Close): 86 Days
Total Profit: $5,287.77
Return on Investment (ROI): 23.40%
Annualized ROI: 99.33%