We close on The Red Garage House on Thursday, and with the past couple weeks being so busy (I've been on Jury Duty all week), we haven't had much time to think about the rehab on this house. But, I made a point to spend some time over there today with my brother, and we now have a Scope of Work and a preliminary budget to work with…
Before I go into that, here are some details on the house:
– First, some pictures…
– The house is about 20 years old, and is in surprisingly good condition for a rehab. In fact, it was in such good shape that I didn't even bother to get an inspection. Hopefully this won't come back to bite me, but after about 10 inspections now, I'm getting pretty good at knowing what to look for; I still may overlook some stuff here and there, but I can identify the most costly issues, and those are the ones that are most important.
– The house is a 3 bedroom, 2.5 bath, and we purchased it for $45,000. It probably needs about $15K of work to get it into rental (or even selling) shape. This assumes that we didn't do our normal flip rehab…basically it would just be enough to pass FHA and VA inspection and be geared towards someone looking for a very low price-point. In fact, if we were to sell it, we'd probably target a price range below anything else that could be found in the surrounding area. Based on our low purchase price, I think this is doable.
– In terms of renting, it's located on a street that has at least two other rentals available, and there are three foreclosures that have sold in the past few weeks, so there will be even more competition; but again, with the low all-in costs that we have, we could likely undercut our rental competition by $50-100 per month.
While I've been a little lazy putting together the Scope of Work and budget for this one, I've captured the gist of it below: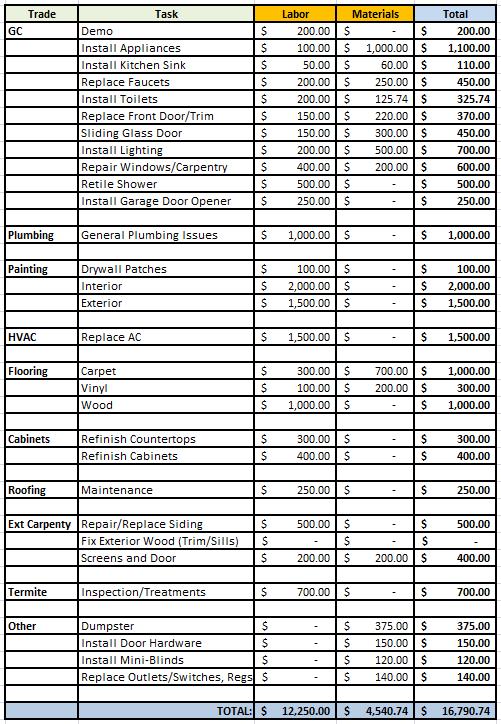 My goal is to come in under $15,000 in terms of budget, which shouldn't be too hard, as these are extremely conservative estimates. And I would like to finish the work within three weeks — no later than March 6.
I certainly don't want to get cocky, but I feel like we're getting pretty good at estimating both budget and schedule, so I'm pretty comfortable with these estimates…