The Red Garage House is now officially on the market. Not that the rehab is complete, but that's just a minor detail…
Seriously, we still have one major rehab issue to complete — one of the double windows in the living room is broken and has been on order for several weeks now; we're hoping to have it installed tomorrow, and have decided that it shouldn't preclude us from starting to get buyers through the property. Additionally, the house isn't yet staged — we're still waiting for the final appraisal from The Second Chance House before we move the furniture over, which will likely happen by the end of this week. So, while things aren't completely complete, they're very close, and everything should be done by Friday. (Btw, rehab pics coming soon…waiting for staging to be completed)
Our budget for this project was $15,000, and our time-line was 3 weeks. While I think it could have gotten done in 3 weeks, I came to the realization during this project that there was essentially no advantage to trying to rush through the project, just to get the house on the market but not be able to have a buyer close on it quickly (due to the FHA 90 Day Rule). So, we slowed down and took our time, and stretched the project out to six-and-a-half weeks.
We still have over 6 weeks before we would be allowed to close with an FHA buyer, so we decided to do a little experiment. We listed the house about $10K higher than we had originally planned (nearly 10% higher), in hopes that we can get a higher-than-expected offer. If we don't get any bites in the next week or two, we'll drop it down to our planned listing price, and will still have four weeks to find a buyer and close and still hit our earliest possible FHA sale date.
As for budget, we were shooting for $15K, but our early analysis indicated we were on-track for closer to $17K. After some good negotiation, we were able to come in about $300 under budget, assuming no last minute surprises moving forward.
Here is how the final costs broke down: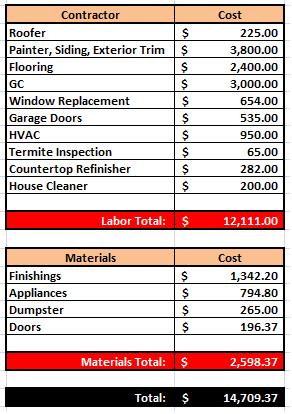 I'm still amazed how consistently we have been able to come in within a few dollars of budget on almost every project…I'm starting to think that we may, in fact, know what we're doing…
😉