As mentioned previously, The Red Garage House is likely to be the first property I hold as a rental. Based on the numbers I've put together, I believe that I could likely flip it to a retail buyer if I wanted to, but given that I probably won't find an excessive number of relatively new properties that will easily cash-flow in my county, when I find them, I will highly consider holding them longer-term.
What I'll likely do is to rehab it as a rental, and then list it both as a rental and a retail sale. If a buyer (or investor) comes along and is willing to pay our asking price, we'll flip it; otherwise, once a renter comes along, we'll rent it and hold onto it.
Here is the quick financial analysis both as a flip and as a rental, assuming it takes three months before I find either a buyer or a tenant…
Financial Analysis of Flip
If we were to flip this house, we'd likely list it at $100,000, and be willing to sell it at $90,000 (and pay buyer's closing costs) for a quick sale. While not much has sold in this neighborhood — and there are three foreclosures on the same block — I haven't seen any move-in-ready houses for sale at $90K in this area, so that might be enough to attract some buyers.
Given that, here's the likely profit with a $90K sale: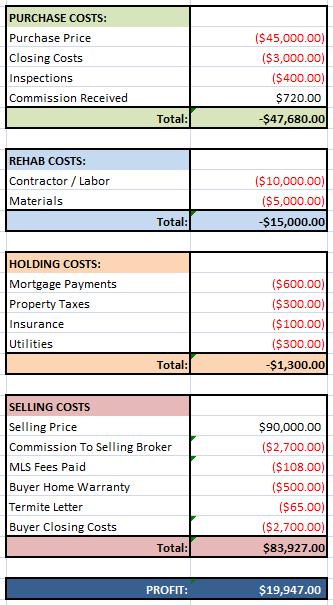 Financial Analysis of Rental
For my rental analysis, I will assume an eventual refinance into a 30-year fixed mortgage, pulling all my invested cash out. I'll further assume rental rate of $850 (which is $50 less than asking for anything else on that block) and will assume an expense ratio of 50% (using the 50% rule).
Given that, here's the likely ROI on this rental: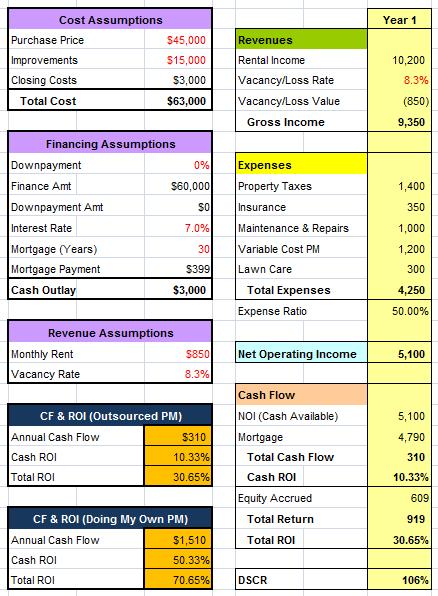 Results
Both results above are very reasonable; as a flip, my profit should approach $20,000. As a rental, my ROI should be over 50% if I property manage it myself (which I will at first), and would still be over 10% if I hired out the property management to a third-party. Most impressive about the rental scenario is that I'd be able to get almost all my cash out at refinancing, and still see positive cash flow under realistic worst-case circumstances.
Given all that, I think I have two reasonable exit strategies — flip or rent — and can decide at a later date which one to pursue…