Now that The DIY House is on the market, I thought I would share the (almost) final rehab costs needed to get this property renovated…
As I mentioned at the beginning of the project, my original budget projection was looking like $40-43K, but I really wanted to get that down to $35K. While I almost made it, some last-minute expenses kicked it up a bit, and I missed that target by several hundred dollars. That said, I'm thrilled that I was able to cut nearly $7K from my original budget (thanks to some strong negotiating on the part of my brother), and yet not have to cut any major rehab items.
Here is how the (almost) final numbers look: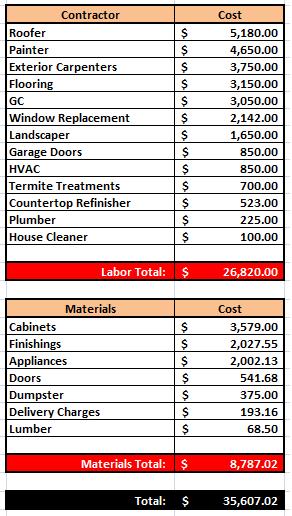 I expect that over the next couple days, I'll probably spend another $300 or so. I'm having trouble with some light-fixture wiring (the three-way switches I wired are all messed up), and will be bringing in an electrician to take a look. And I'll be buying some replacement garage door openers for the two garage doors.
In total, I should come in just under $36,000. Not bad, especially given that I was at about $42K when we started, and I was able to get everything I wanted accomplished.
The best part of this rehab budgeting effort is that I was able to put together a new and repeatable system for estimating and scheduling contractor and material costs, so not only do I expect future projects to be easier to forecast, but also that I should be able to have others in the company do it for me when necessary.