We closed on the sale of The WI-3 House earlier this week…
This was another Milwaukee deal. The rehab was basic, other than same MAJOR foundation work that cost over $13,000. But, the rest of the project was cosmetic — redoing the 1.5 baths, updating the kitchen, new roof, interior/exterior paint, new fixtures, etc.
We purchased this one for $94,000 early this year, put about $46,000 in the rehab — and spent way too long rehabbing it (we had a lot of projects going at the same time) — then sold it for $173,900. We ultimately made only $12,500, which isn't great…but we're still doing a lot of learning in the Milwaukee market.
Here is how the financials break down: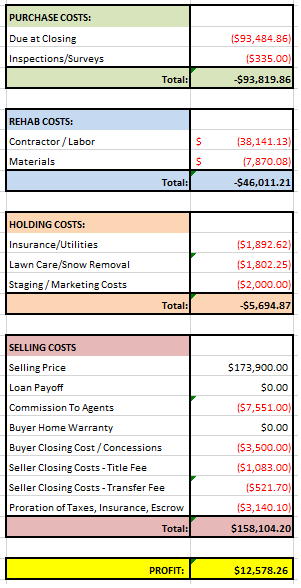 This accounting doesn't take into account any travel costs (the property is out of state), but given that we're working on a dozen projects in Milwaukee right now, it's difficult to allocate travel to specific properties. Instead it will get amortized over all projects and deducted as an expense (which is the correct way to do the accounting as well).