We closed on the sale of The Retail House today…
After purchase, we did a rehab to get the property into rental shape. This included a LOT of clean out (an entire dumpsters worth of trash), painting the interior, repairing some siding, painting the exterior, replacing the carpet and vinyl flooring throughout the house, and two separate house cleaning services. A big part of the rehab was trying to remove as much of the smoke smell from the house as possible (the previous owners were smokers). Ultimately, we resold it to an investor who plans to keep it as a rental.
Our contractors owed us a good bit of work on this project, so we likely saved about $10,000 in labor costs that got applied directly to our profit. So, our profit on this one was probably about $10,000 more than it normally would have been.
Here are the final stats and financial details:
Timelines
Here are the key timeline milestones:
Purchase Offer Date: 1/21/2013
Purchase Closing Date: 1/31/2013
Rehab Completion Date: 2/20/13
Sale Listing Date: 2/28/2013
First Sale Contract Date: 3/6/2013
Final Sale Contract Date: 3/6/2013
Sale Closing Date:3/15/2013
Financials
Here is the breakdown of financials for this project: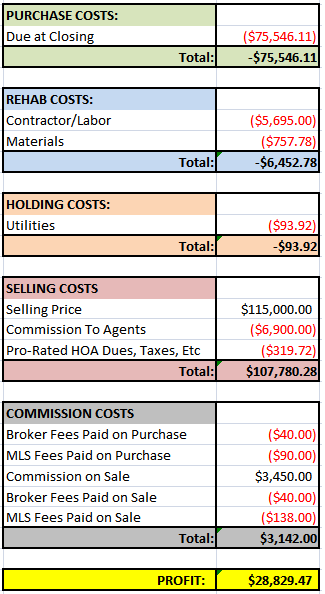 Final Statistics
Here are just some of the final statistics that I've been tracking for all my projects, and that summarize the success/failure of each project pretty well:
From Offer to Purchase Time: 10 Days
Rehab Time: 9 Days
Selling Days on Market: 6 Day
Selling Close Time: 9 Days
Total Hold Time (Close to Close): 43 Days
Total Profit: $28,829.47
Return on Investment (ROI): 35.06%
Annualized ROI: 297.62%