We wholesaled The Next-Door House earlier this week for a profit of over $18,000…
While our primary business is rehabbing and reselling houses to owner occupants, we'll never turn down a good business opportunity, and that's what this sale was. The market here in Atlanta is crazy these days — very little inventory and lots of investors clamoring to get their hands on anything. So, when we closed on The Next Door House last week at a tremendously good price, we decided to throw it on the market as-is (never even turned on the utilities) and see if we could find another investor who would be interested in buying it at a substantial markup.
The day after Thanksgiving, we listed the property at $24,000 more than what we purchased it for, mentioned that we were only looking for cash-buyers, and our phone started blowing up. Every call was the same, "How many offers do you have? Is the property still available?" Within three days, we had several offers at or above list price.
We could have sold the property for more than we listed it for, but we actually decided to sell it for less. The buyer is another investor we're friends with, and he has purchased several properties from us. He also was the first to submit an offer on this property. We'd rather sell for a little less to someone we have a great relationship with than to try to eke out every penny — long-term, this business is about relationships.
Anyway, we likely made about 50% less by wholesaling the property than by rehabbing it ourselves, but considering that we didn't have to do any work or take any risk, it was well worth it.
Here is the full final analysis for this one…
Timelines
Here are the key timeline milestones:
Purchase Offer Date: 9/12/2012
Purchase Closing Date: 11/21/2012
Rehab Completion Date: N/A
Sale Listing Date: 11/23/2012
First Sale Contract Date: 11/25/2012
Final Sale Contract Date: 11/25/2012
Sale Closing Date:12/5/2012
Financials
Here is the breakdown of financials for this project: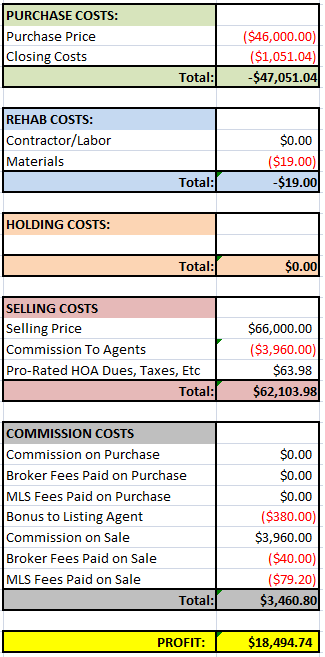 Final Statistics
Here are just some of the final statistics that I've been tracking for all my projects, and that summarize the success/failure of each project pretty well:
From Offer to Purchase Time: 70 Days
Rehab Time: 0 Days
Selling Days on Market: 3 Days
Selling Close Time: 10 Days
Total Hold Time (Close to Close): 14 Days
Total Profit: $18,494.74
Return on Investment (ROI): 38.98%
Annualized ROI: 1016.19%