As of this afternoon, The Yellow Stain House is officially sold!
This project has been at times frustrating, at times fun, and has presented some very unique challenges. Specifically, one of the most difficult aspects of this project has been deciding what our exit strategy would be. We considered a major rehab and flip; we considered renting; we considered flipping to another investor; and we considered a minor rehab and flip. One of the most important lessons learned on this project was that you don't necessarily have to sink a lot of money into a project to get a good return. In fact, oftentimes the best return comes from the simplest and quickest exit strategy.
In this case, we realized that while we may be able to make a few thousand dollars more by putting more time and effort into the project, our annualized ROI would be much greater by just getting in and out. Plus, having our cash tied up in this property for too long would have made future acquisitions more difficult. And lastly, we learned many lessons about location and price-points in this market (I'll have more to say about that in a future post).
Ultimately, we ended up doing very little rehab on this project. Here is the breakdown of financials for this project:
Interior Paint Touch-Up
Replace Cabinet Hardware and a Light Fixture
Total rehab costs for this project were as follows:
Labor: $6,360.00
Materials: $99.21
Total: $6,459.21
Timelines
Here are the key milestones from this project:
Purchase Offer Date: 10/9/2008
Purchase Closing Date: 11/3/2008
Rehab Completion Date: 11/10/2008
Sale Listing Date: 11/10/2008
Sale Contract Date: 11/18/2008
Sale Closing Date: 11/21/2008
While 8 days on the market is fantastic, the fact that the buyer was paying cash and was able to get the closing attorneys to close in under 60 hours was amazing! And while this wasn't a full rehab, it's still pretty amazing that my total time from closing of the purchase to closing of the sale was only 18 days…
Financials
Because I didn't set my exit strategy on this one until right before I listed it, I didn't have a set budget for the rehab we ultimately did. So, it's unclear if I was either under- or over-budget on this one…but the final financial results indicate that the project was a success from a financial standpoint.
Here is the breakdown of financials for this project: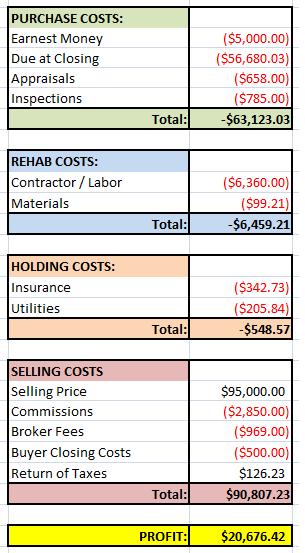 I'll get much of that insurance premium back, and I'll owe a bit on final utility bills, but the final number should be pretty close to that (likely, it will be about $200 higher).
Final Statistics
Here are the final statistics on this one:
From Offer to Purchase Time: 25 Days
Rehab Time: 7 Days
Selling Days on Market: 8 Days
Selling Close Time: 3 Days
Total Hold Time (Close to Close): 18 Days
Total Profit: $20,676.42
Return on Investment (ROI): 29.48%
Annualized ROI: 597.84%
Because I paid all-cash for this property, my ROI was less than I would have expected, but due to the quick turn-around, my annualized ROI was through the roof.
All-in-all, I consider this a very successful project, and I think our whole team learned a lot from this one that we'll use on future projects…