We closed on the sale of The Rot House earlier this week for a great profit and ROI (see details below)…
The project went relatively smoothly, and except for a few things that were missed during the rehab (that we had to take care of after the buyer's inspection), there were no major surprises and no major issues. During the renovation, we met a neighbor who is getting ready to move and is looking to sell her house, so hopefully we'll get another deal on this street in the near future.
Anyway, not much to say on this one, so here is the full final analysis…
Timelines
Here are the key timeline milestones:
Purchase Offer Date: 6/2/2012
Purchase Closing Date: 9/28/2012
Rehab Completion Date: 11/23/12
Sale Listing Date: 11/20/2012
First Sale Contract Date: 12/10/2012
Final Sale Contract Date: 12/10/2012
Sale Closing Date:1/17/2013
Financials
Here is the breakdown of financials for this project: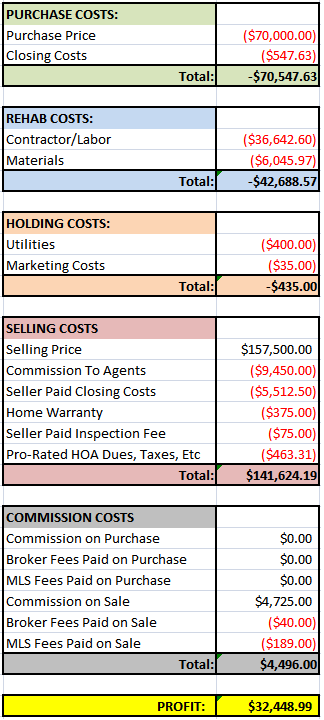 The utilities cost is just a guess, as I haven't gotten final utility bills yet.

Final Statistics
Here are just some of the final statistics that I've been tracking for all my projects, and that summarize the success/failure of each project pretty well:
From Offer to Purchase Time: 118 Days
Rehab Time: 53 Days
Selling Days on Market: 20 Days
Selling Close Time: 38 Days
Total Hold Time (Close to Close): 111 Days
Total Profit: 32,448.99$
Return on Investment (ROI): 28.55%
Annualized ROI: 93.87%