We closed on the sale of The WTF House on Friday…
The most interesting part of this project was the purchase (which I've already detailed here) and the sale closing. The buyer was scheduled to close on the sale of her current residence on February 14 (was hoping to close sooner) and we were scheduled to close our transaction on February 15. Last week, we found out that she was planning to close her property much sooner than anticipated and told us that she wanted to close on ours the day after she closed on hers. We said sure, as long as she could get the loan done that quickly.
We didn't think it could happen, but she closed on the sale of her house yesterday (Thursday) and closed on the purchase of our house today (Friday). Apparently, the underwriter for that loan is pretty quick, and the broker was able to get the loan package out even more quickly. My awesome closing attorneys weren't planning to be in the office today, but rearranged their schedules and agreed to get a temporary office offsite just to get us closed today. At closing, I realized what the rush was — the buyer had 24 hours to be out of her old house, and didn't have any place to store her stuff or to sleep if she didn't get into our house prior to the weekend.
It's been a whirlwind two days getting the house ready to sell (getting the staging furniture out, dealing with last minute closing issues, etc), but it got done. Here are the timelines and financials for this project:
Timelines
Here are the key timeline milestones:
Purchase Offer Date: 6/27/2012
Purchase Closing Date: 8/31/2012
Rehab Completion Date: 10/19/12
Sale Listing Date: 10/20/2012
First Sale Contract Date: 1/6/2013
Final Sale Contract Date: 1/6/2013
Sale Closing Date:2/8/2013
Financials
Here is the breakdown of financials for this project: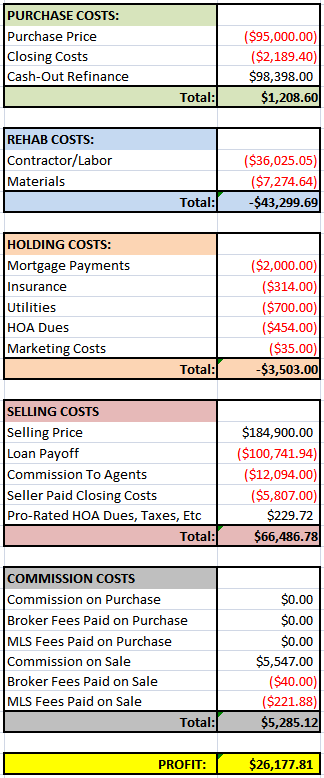 The utilities cost is just a guess, as I haven't gotten final utility bills yet.

Final Statistics
Here are just some of the final statistics that I've been tracking for all my projects, and that summarize the success/failure of each project pretty well:
From Offer to Purchase Time: 65 Days
Rehab Time: 46 Days
Selling Days on Market: 78 Days
Selling Close Time: 33 Days
Total Hold Time (Close to Close): 161 Days
Total Profit: $26,177.81
Return on Investment (ROI): 57.41%
Annualized ROI: 130.16%