The WTF House house been on the market for a couple weeks now and while it's not under contract yet, we've gotten some great feedback and one offer (which likely won't work out). This house is in a higher-priced neighborhood for the small city it's in, so it's getting less traffic than most of our houses do — it's also prime holiday season and fewer buyers are out there.
Regardless, we're confident we'll have it under contract soon, and we've finally finalized the renovation costs for the project (we had been waiting for a few final invoices).
Here is a detailed comparison of the estimated and the actual budget numbers, and below that is an overview of why we were significantly over budget on this one: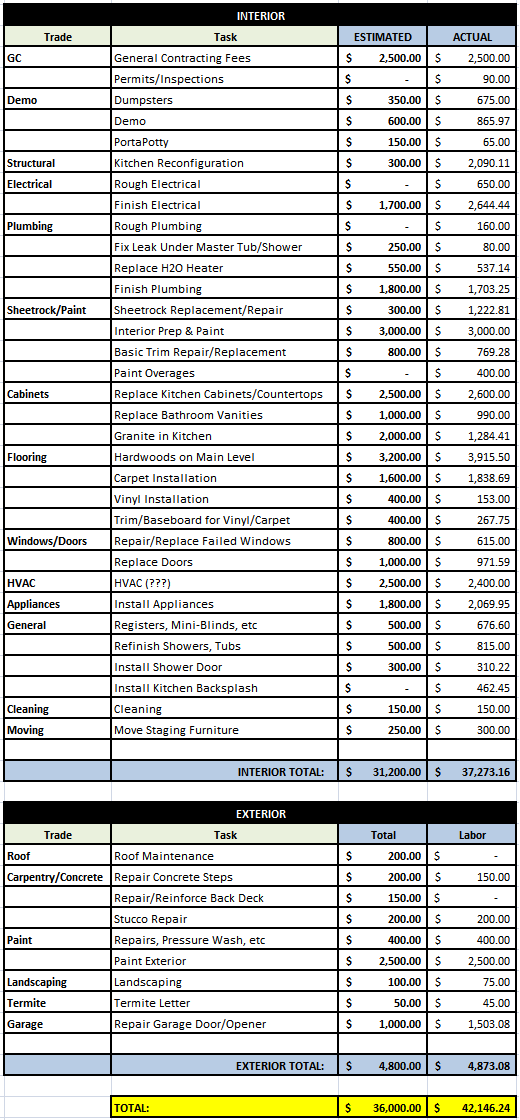 As you can see, we were about $6000 (about 15%) over budget on this project, which is pretty significant for us — we're generally under budget, and when we're over, it's not usually by this much. The bulk of the overages were due to the extra work we did redesigning the kitchen. Between the extra demo/dumpsters, the structural work, the extra electrical work, the extra sheetrock work, the backsplash that I forgot to budget for, etc, the kitchen ended up costing about $4000 more than we expected.
We also spent about $1000 more on finish electrical work than we anticipated (our GC switched to a new electrician who is a good bit more expensive than the previous one), I underestimated the hardwood cost and then there were a few other areas where I underestimated by a bit.
The house turned out great, and I'm confident we'll get top of market value for it, so some of those overages will likely come back to us in sales price. But, that said, I've underestimated the renovation costs on several of our recent projects, which is never good — time to work on improving my estimation now that we're using some new contractors and a GC who doesn't give us fixed bids.