We sold The Rookie House today…
When we originally purchased this one, we knew it would be thin deal, and were pretty certain that we weren't going to make our minimum of $15,000 profit target. In fact, our sole goal with this house was to cover the vet bills for our dog, who got very sick the week we first made an offer on this house. I'm happy to say that our dog has made nearly a full recovery over the last few weeks and also that the profit on this house covered all the vet bills (which tallied to about $6000!) and more.
Here is the full final analysis for this one…
Timelines
Here are the key timeline milestones:
Purchase Offer Date: 5/29/2012
Purchase Closing Date: 7/6/2012
Rehab Completion Date: 9/7/2012
Sale Listing Date: 8/28/2012
First Sale Contract Date: 8/28/2012
Final Sale Contract Date: 8/28/2012
Sale Closing Date:10/10/2012
Financials
Here is the breakdown of financials for this project: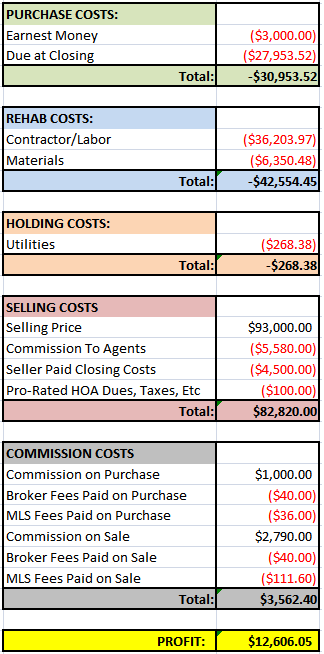 The closing attorney hasn't yet received the final HOA payoff letter, so I'm just guessing on the $100 for pro-rated HOA dues, and there are no pro-rated taxes on this one, as the county is not charging property taxes this year on this property because it was uninhabitable prior to our rehab. As a reminder, here was the rehab breakdown on this one.

Final Statistics
Here are just some of the final statistics that I've been tracking for all my projects, and that summarize the success/failure of each project pretty well:
From Offer to Purchase Time: 38 Days
Rehab Time: 60 Days
Selling Days on Market: 0 Days
Selling Close Time: 43 Days
Total Hold Time (Close to Close): 96 Days
Total Profit: $12,606.05
Return on Investment (ROI): 17.30%
Annualized ROI: 65.79%