We closed on the purchase of The H2O House today (pics coming soon)…
This is another project where we'll be working with our General Contractor on a "cost plus" basis — meaning he'll supply all the labor and materials that we request, and he'll pass the exact cost through to us, plus a set fee for his time and effort. This makes it tougher to forecast the budget, as we don't have much in terms of fixed bids upfront, but given our experience and the level of consistency/quality our GC and his crew has, I expect that we should be able to do a decent job of forecasting.
Here are my estimates upfront: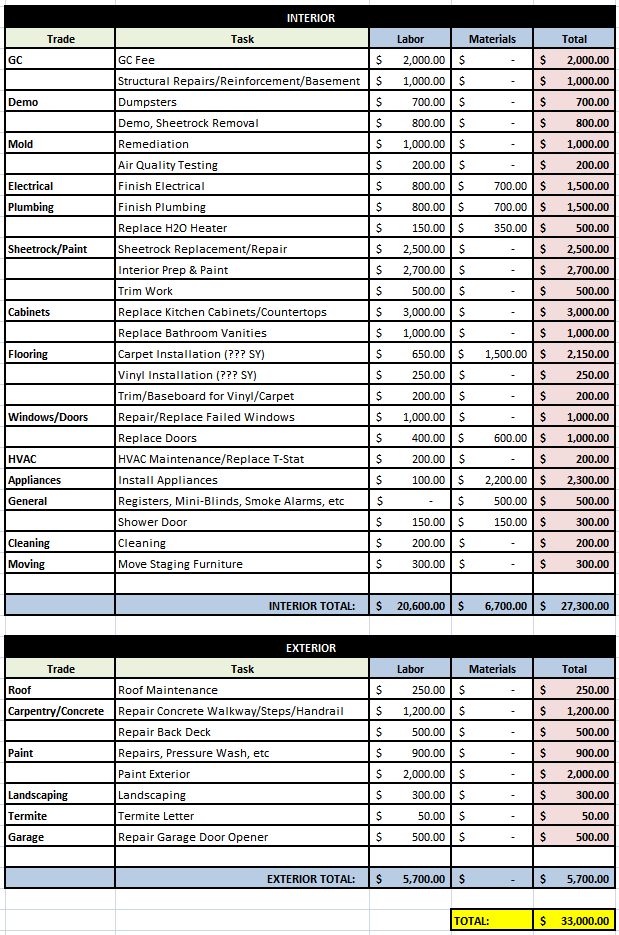 I expect that we'll come in around $33,000 in total budget, but we'll do our best to try to bring that down a bit; best case, I'd love to get this one done for $30,000, but I don't see that happening unless we can find some places to cut corners. There is a bit of risk with the roof and HVAC system — if it turns out we need to replace either of those, we could end up going over budget, but I'm hoping they are both in decent shape and we won't need to replace either.
Demo starts on Wednesday morning…