As of this afternoon, The H2O House has been sold. This was a boring project — that's a good thing — and there isn't much to say, but here's a quick recap (and see all financial numbers below)…
Other than mold remediation taking a week longer than expected (and requiring us to remove a lot more sheetrock than expected) and needing a new AC condenser/coil, there were no surprises on this one. And the fact that we were able to get it under contract while it was torn down to the studs meant that we didn't need to market, didn't need to stage and could work with the buyer on some customizations early in the process.
We were over-budget by about 7%, but the appraisal came in at the sale price, which was a little unexpected — so, those two things pretty much evened us out in terms of profit expectations. On this one, we made almost exactly our average profit over all the projects we've done.
Here is the full final analysis for this one…
Timelines
Here are the key timeline milestones:
Purchase Offer Date: 4/16/2012
Purchase Closing Date: 5/21/2012
Rehab Completion Date: 7/3/2012
Sale Listing Date: 6/13/2012
First Sale Contract Date: 6/13/2012
Final Sale Contract Date: 6/13/2012
Sale Closing Date:8/6/2012
Financials
Here is the breakdown of financials for this project: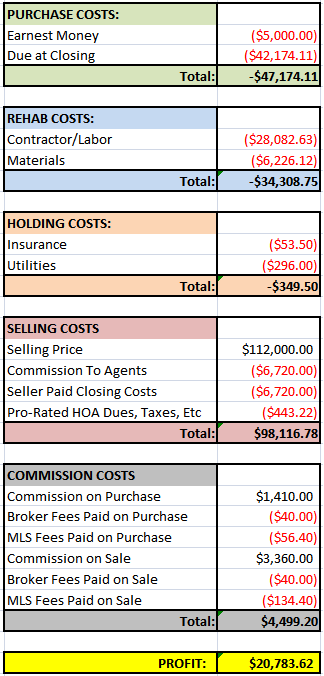 Final Statistics
Here are just some of the final statistics that I've been tracking for all my projects, and that summarize the success/failure of each project pretty well:
From Offer to Purchase Time: 35 Days
Rehab Time: 41 Days
Selling Days on Market: 0 Days
Selling Close Time: 54 Days
Total Hold Time (Close to Close): 77 Days
Total Profit: $20,783.62
Return on Investment (ROI): 25.81%
Annualized ROI: 122.36%