We are almost ready to close on the sale of The H2O House (still working on pics!), and I've finally received most of the final invoices and receipts from my GC for this rehab (see final numbers broken-down below)…
We were about 7% over budget on this one (about $2500), with $500 of that being a bonus for my GC — who's been working hard for us — and the other $2000 pretty much attributable directly to the fact that we needed to replace the AC condenser and coil, though I hadn't budgeted for it (wishful thinking on my part). I hate being over budget on any project, but this one was my fault for not determining much sooner that the condenser would need to be replaced, and had I accounted for that, we likely could have trimmed in other places or just raised our budget estimate.
Here is a detailed comparison of the estimated and final budget numbers: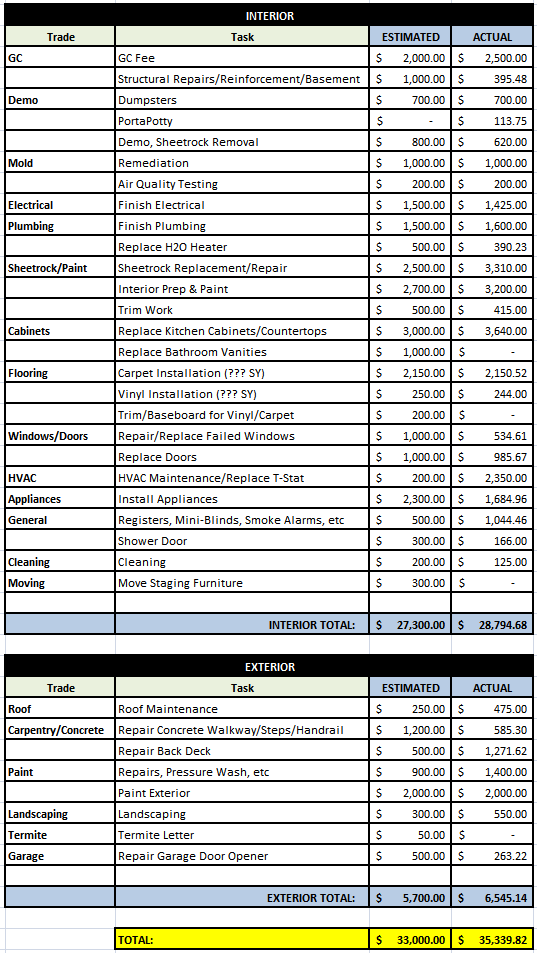 We're still waiting for final plumbing numbers (the estimate is still the placeholder) and there may be a few little punch list items in the next couple days, but this should be pretty close to accurate for our final budget.