We started work on The Puzzle House this morning, and spent a good couple hours with our contractors making final decisions on things like kitchen layout, flooring finishes, moving walls, etc (here are some of the other things we're up against as well).
They should be finishing up demo today and starting to dig the footers for the structural underpinning in the crawl space, but unfortunately, after that work completes, we will likely be at a standstill for a couple days — the permit office is closed today for President's Day, and we can't get the electricity turned on until the county inspector gives the go-ahead (this is a county requirement because the electricity has been off for more than 2 years). Until we get electricity on, there's not much else that can be done.
While there are still a lot of decisions to be made on design and finish work, and there a lot of bids we still need from our contractors, here are my very preliminary estimates for this project: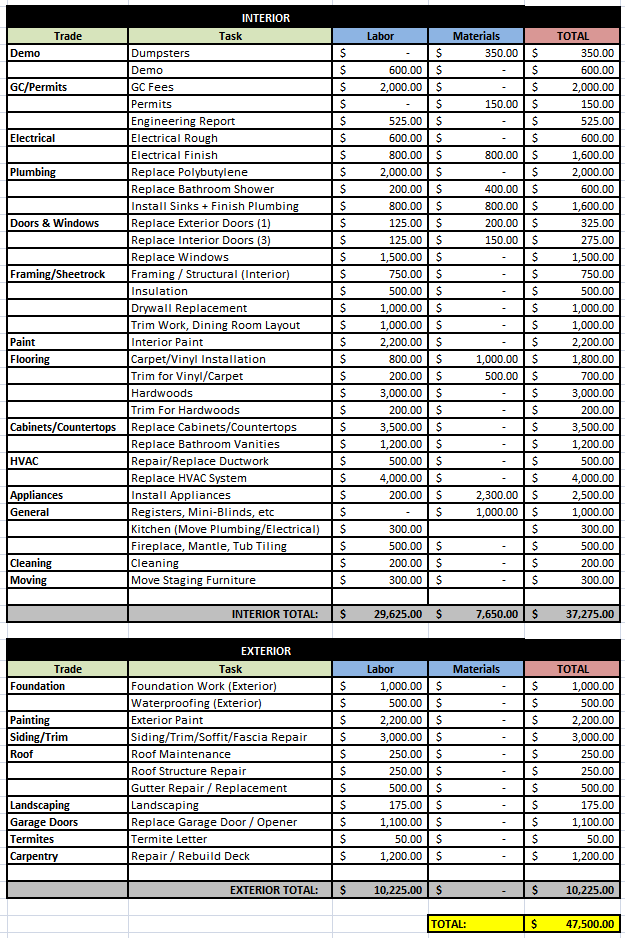 I'd love to get that budget down to $45,000, but I have a feeling that we'll decide to add some nicer finishes as we progress, so it could creep up closer to $50,000. So, I'm going to estimate a final budget in the $45-50K range for this project (a lot of credit will go to my awesome GC if we can keep it in that range…email me if you want his info for your next job!).
And here is our very preliminary schedule, assuming we don't lose too much time for inspections or unexpected surprises (I should probably run this by my GC before I post it here, huh? :):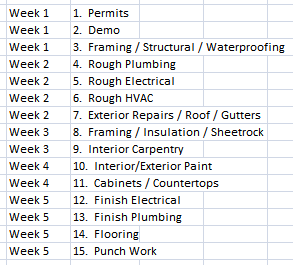 I'll post some pictures of the rehab progress later in the week…