The Puzzle House has been sold, and from a pure profit perspective, this has been our most profitable project to date (see all numbers below)…
This was a big renovation that we almost backed out of several times; ultimately, our GC and structural engineer convinced us that the structural issues (and other issues) in this house weren't overly concerning, and nothing that repairing the foundation, jacking up the house and replacing a lot of sheetrock couldn't fix. The nice part was that this house scared away most other buyers, so when we purchased the house, we were able to get it under contract for well below the list price and then got the bank to take an extra $10,000 off the purchase price after our inspections.
We went over budget by about 10%, but the result was nicer than we anticipated and were able to get two full-price contracts from buyers above what we had originally thought we could sell it for. In fact, our final sale price was $8000 above what our private appraiser told us it would appraise for, but ultimately BOTH of the buyer's appraisals came in above the sale price. The big disappointment about this project was the timeframe — it took 10 weeks to rehab when it likely should have been completed in 6 weeks. Due to some failed inspections, poor scheduling and some contractor delays, we probably should have had this one sold by the time we got it on the market.
But again, the quality of the rehab was great and the profit/ROI numbers speak for themselves. This is another project that my wife gets most of the credit for, as she was the one pushing us to do this outside of our typical area. Our designer also gets a lot of credit for coming up with some fantastic design ideas for the living/dining room area that had some weird structural components.
Here is the full final analysis for this one…
Timelines
Here are the key timeline milestones:
Purchase Offer Date: 1/12/2012
Purchase Closing Date: 2/17/2012
Rehab Completion Date: 5/2/2012
Sale Listing Date: 5/3/2012
First Sale Contract Date: 5/16/2012
Final Sale Contract Date: 5/22/2012
Sale Closing Date:6/22/2012
Financials
Here is the breakdown of financials for this project: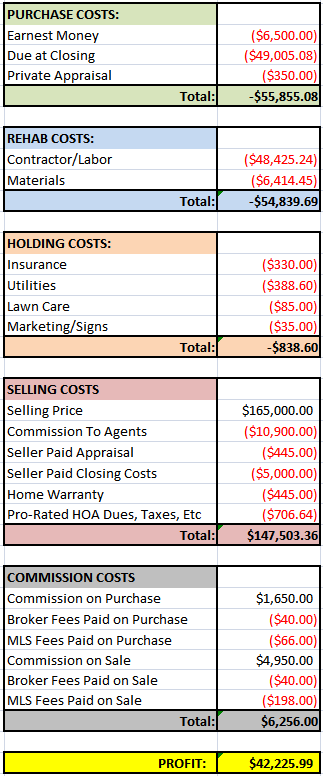 Final Statistics
Here are just some of the final statistics that I've been tracking for all my projects, and that summarize the success/failure of each project pretty well:
From Offer to Purchase Time: 36 Days
Rehab Time: 72 Days
Selling Days on Market: 19 Days
Selling Close Time: 31 Days
Total Hold Time (Close to Close): 126 Days
Total Profit: $42,225.99
Return on Investment (ROI): 38.39%
Annualized ROI: 111.21%