I mentioned the other day that we had The Easy House under contract as a wholesale deal, and we're already closed…
As part of the wholesale deal, we did some very minor repair work to ensure the property was in working order — we tested the plumbing, replaced the leaking supply valves on both the hot/cold washer lines, replaced a leaking toilet, had our HVAC company check and perform routine maintenance on the HVAC system and replaced a broken handle on the sliding glass door. About $400 worth of labor and materials and just a couple hours of work.
We made a little bit more than expected on this one just because the buyer didn't have an agent, so we didn't have to pay any commissions — and given that we only owned the property for 2 weeks, the ROI was great.
Here is the full final analysis for this one…
Timelines
Here are the key timeline milestones:
Purchase Offer Date: 1/12/2012
Purchase Closing Date: 2/23/2012
Rehab Completion Date: 2/24/2012
Sale Listing Date: 2/24/2012
First Sale Contract Date: 3/4/2012
Final Sale Contract Date: 3/4/2012
Sale Closing Date: 3/9/2012
Financials
Here is the breakdown of financials for this project: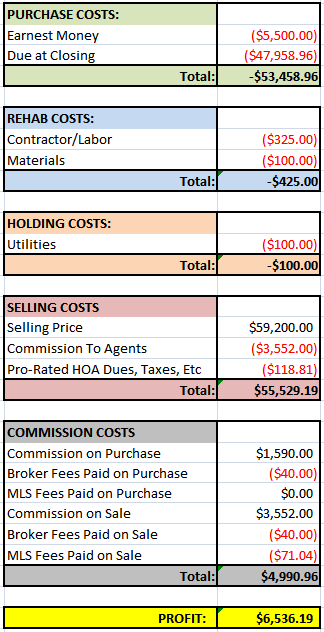 Our profit on this one was about $6,500, which is decent for a wholesale deal that we only held for two weeks. I wouldn't have been upset to have held this one, rehabbed it and resold it to a retail buyer, but I'm also happy to get the cash out and move on to the next deal.
Final Statistics
Here are just some of the final statistics that I've been tracking for all my projects, and that summarize the success/failure of each project pretty well:
From Offer to Purchase Time: 42 Days
Rehab Time: 1 Days
Selling Days on Market: 9 Days
Selling Close Time: 5 Days
Total Hold Time (Close to Close): 15 Days
Total Profit: $6,536.19
Return on Investment (ROI): 12.47%
Annualized ROI: 303.33%