Now that The Second Chance House is ready to be put on the market, I decided to do my final accounting to determine how much I've spent rehabbing this property. I've been tracking my budget closely the entire project (of course), but until the past few days, it was unclear if I'd come in under — or just over — my projections. Because this was my first major rehab, I was concerned about missing rehab costs and unexpected surprised. While my budget factored in an extra 10% or so for these things, I still wasn't positive that I wasn't missing something big.
If you recall, my original budget was $36K, broken down as $23K for Labor and $13K for Materials.
Here are my final rehab numbers: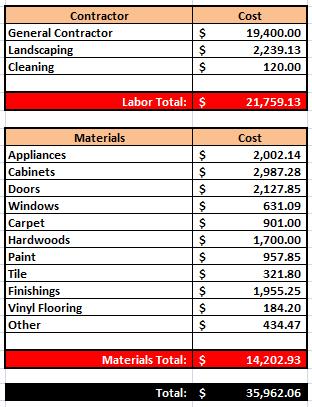 Amazingly, I came in just $38 under budget!
And, as you can see, both Labor and Materials came in very close to my projections — Labor was under about a $1000 and Materials were over about $1000.
All that said, there is one more thing that will require a minor cash outlay before I'm completely done. We were planning to demo the ugly shed in the backyard, but after some serious consideration and debate, we all agree that fixing it up will provide a value boost to the property. So, for about $200 or so, we'll put on a new door, a couple new windows, some lattice work around the bottom, and perhaps a ramp.
I have a feeling we'll easily get back our money for these repairs, but considering it will have to be added to the rehab costs, it looks like I'll actually be over-budget by about $200.
On a $36K budget, I'm okay with that…
🙂