As of this morning, The Second Chance House is officially sold!
Between schedules running over, losing marketing time due to the holidays, and having the first offer fall through after 2 months under contract, we've been holding this property for a long time — over 200 days. But, in the end, we received a full-price offer with few concessions or contingencies, and were able to close in about three weeks.
It's been a while since we had a sales closing, and I have been looking forward to doing a final financial analysis on this deal. While I knew it would be profitable, I didn't know to what degree.
Here is the run-down, with the final set of statistics at the bottom…
Timelines
As mentioned above, the total hold time on this property was much longer than expected. I was hoping for four months, and it's been closer to seven. The rehab was scheduled to complete in about eight weeks, and took closer to twelve. We finished in mid-December, but let the property sit for a couple weeks until the holidays were past.
We got the first offer within a couple weeks, which tied up the property for two months until the buyers finally had to be cut loose. We put the house back on the market and got a full-price offer in less than 36 hours, and closed three weeks later.
Here are the key milestones from this project:
Purchase Offer Date: 8/5/2008
Purchase Closing Date: 9/19/2008
Rehab Completion Date: 12/22/2008
Sale Listing Date: 1/2/2009
Sale Contract Date: 3/22/2009
Sale Closing Date: 4/13/2009
We've learned a lot about rehab scheduling since this project completed, and hopefully will never make some of those same mistakes again…
Financials
This is the largest profit we've made on rehab to-date, so for that reason alone, I'm very happy with the financial results of this project. All told, our total profit after all fees, commissions, rehab costs and other expenses was over $35,000.
We had originally budgeted $36K for this rehab, and actually came in a few dollars under budget as of the time it was put on the market. With the two contracts we had on the property came some requests for additional work from the buyers, which we — for the most part — provided.
The additional work included getting a survey done, adding more insulation in the attic, putting a vapor barrier in the crawl space, building a handrail on the front steps, and some other minor fixes. The total costs of this additional work was about $2K, bring the total renovation budget to just about $38K.
Here is the breakdown of financials for this project: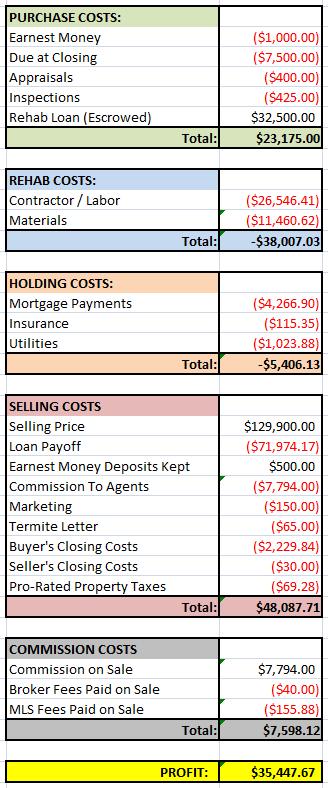 While these numbers don't reflect the final holding costs — the final utility bills have not been received — the final results should be within about $100 one way or the other.
Had the first contract we had on the house gone through, we likely would have seen a profit of about $23,000. Instead we made more than $35,000, so the two months we lost with the first buyers was actually a good turn of events from a financial perspective.
In terms of ROI, my total investment into this property (Purchase Costs, Rehab Costs, Holding Costs) was $20,238.16; this puts my ROI at just over 175%, and adjusted for the time this project took, my annualized ROI is over 310%.
Final Statistics
Here are just some of the final statistics that I've been tracking for all my projects, and that summarize the success/failure of each project pretty well:
From Offer to Purchase Time: 45 Days
Rehab Time: 88 Days
Selling Days on Market: 79 Days
Selling Close Time: 22 Days
Total Hold Time (Close to Close): 206 Days
Total Profit: $35,447.67
Return on Investment (ROI): 175.15%
Annualized ROI: 310.34%