The Ticket House has been sold…and I've more than recoup the cost of the speeding ticket I received while pulling into the subdivision to view the house for the first time… 🙂
This was an easy project and a great experiment for us. First, it was outside of our typical purchase area (about 30 minutes from home), so the logistics of getting the rehab done and getting it sold was a little tougher than usual. Second, it was priced a bit higher ($145,000) than our typical houses, so we were targeting a different demographic of buyer and were dealing with new buyer's agents who we didn't know. Overall, the results were fantastic, and this was a very profitable project. My wife deserves much of the credit, as she was the one pushing for us to do this project.
The nicest surprise was that we only needed one appraisal (despite the buyer getting an FHA loan), and that appraisal came in several thousand dollars above our contract price. So, for the first time in a while, we didn't have to deal with potentially low appraisals. We did waste some time on the first buyer who had the property under contract, and we decided to lower the price after that contract fell through, but we quickly found a new buyer at the new full-price.
Here is the full final analysis for this one…
Timelines
Here are the key timeline milestones:
Purchase Offer Date: 1/12/2012
Purchase Closing Date: 1/30/2012
Rehab Completion Date: 2/21/2012
Sale Listing Date: 2/22/2012
First Sale Contract Date: 3/20/2012
Final Sale Contract Date: 4/18/2012
Sale Closing Date: 5/31/2012
Financials
Here is the breakdown of financials for this project: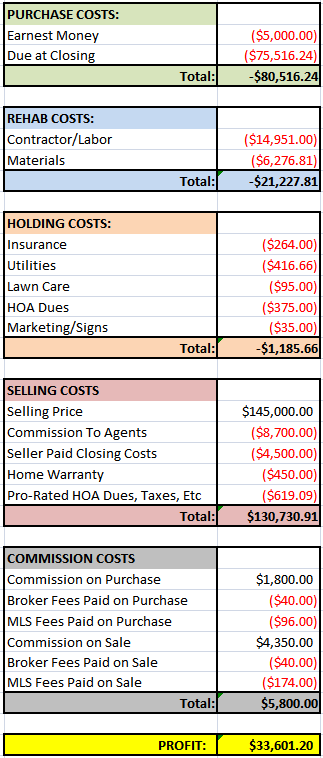 Final Statistics
Here are just some of the final statistics that I've been tracking for all my projects, and that summarize the success/failure of each project pretty well:
From Offer to Purchase Time: 18 Days
Rehab Time: 20 Days
Selling Days on Market: 56 Days
Selling Close Time: 43 Days
Total Hold Time (Close to Close): 122 Days
Total Profit: $34,026.28
Return on Investment (ROI): 33.59%
Annualized ROI: 100.48%