The family and I have been on vacation for much of December, which is why I haven't posted much this month. But, we closed on the sale of The Waffle House yesterday (see all the financial results below), so I wanted to post a quick final analysis of the deal.
This closing snuck up on us — we weren't supposed to close until the end of next week, but the lender, agent and buyer were all pushing to get it done this week, so we figured out how to make it happen while we were away. Ultimately, this may have been the smoothest closing process we've ever had, but perhaps that's just because we really didn't have to do anything up until the final 24 hours.
Anyway, here is the full final analysis for this one…
Timelines
Here are the key timeline milestones:
Purchase Offer Date: 9/19/2011
Purchase Closing Date: 10/12/2011
Rehab Completion Date: 10/27/2011
Sale Listing Date: 10/28/2011
First Sale Contract Date: 11/19/2011
Final Sale Contract Date: 11/19/2011
Sale Closing Date: 12/22/2011
Financials
Here is the breakdown of financials for this project: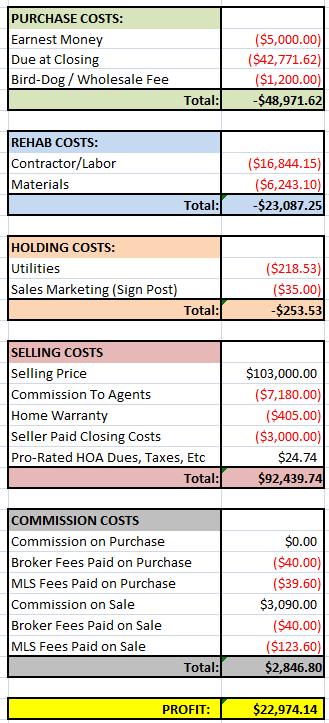 Our profit on this one was nearly $23K. We were pleasantly surprised that the appraisal came in at the sale price ($103K), given that there hasn't been much retail activity in the area, other than our recent sale of The Drought House, which sold for $5K less.
Final Statistics
Here are just some of the final statistics that I've been tracking for all my projects, and that summarize the success/failure of each project pretty well:
From Offer to Purchase Time: 23 Days
Rehab Time: 14 Days
Selling Days on Market: 22 Days
Selling Close Time: 33 Days
Total Hold Time (Close to Close): 71 Days
Total Profit: $22,974.14
Return on Investment (ROI): 32.27%
Annualized ROI: 165.90%