We closed on the sale of The Fourfecta House yesterday… (see all the financial results below)
I should say that we FINALLY closed on this sale. We were scheduled to close about a month ago, when the lender went of of business the day before closing. It was supposed to take up to 2 weeks to get a new lender in place and get to the closing table, but that timeline continued to stretch out day by day for another two weeks. Unfortunately, the lack of communication by the loan officer and her company made this an absolutely horrible experience, and we'll never work with her again.
Anyway, it finally all worked out…here is the full final analysis for this one…
Timelines
Here are the key timeline milestones:
Purchase Offer Date: 8/7/2011
Purchase Closing Date: 9/14/2011
Rehab Completion Date: 9/29/2011
Sale Listing Date: 9/30/2011
First Sale Contract Date: 10/2/2011
Final Sale Contract Date: 12/2/2011
Sale Closing Date: 12/13/2011
Financials
Here is the breakdown of financials for this project: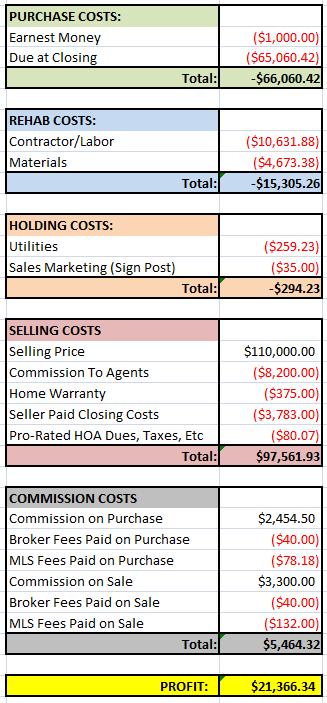 Our profit on this one was a bit over $21K. We were pleasantly surprised that the appraisal came in at the sale price ($110K), especially given that our past two sales in that neighborhood only appraised for $105K. Our annualized ROI was decreased significantly due to the extra 30 days it took to close (this added 50% to the total timeline).
Final Statistics
Here are just some of the final statistics that I've been tracking for all my projects, and that summarize the success/failure of each project pretty well:
From Offer to Purchase Time: 38 Days
Rehab Time: 13 Days
Selling Days on Market: 2 Days
Selling Close Time: 72 Days
Total Hold Time (Close to Close): 90 Days
Total Profit: $21,366.34
Return on Investment (ROI): 26.94%
Annualized ROI: 109.24%