We received word that our contract to purchase The Drought House has been signed by HUD and that we can call the closing attorney this week to schedule our closing for sometime in the next 45 days. Hopefully we'll be able to get this one closed quickly, as we're ready to get back to work…
Here's the preliminary budget that I've put together for this project: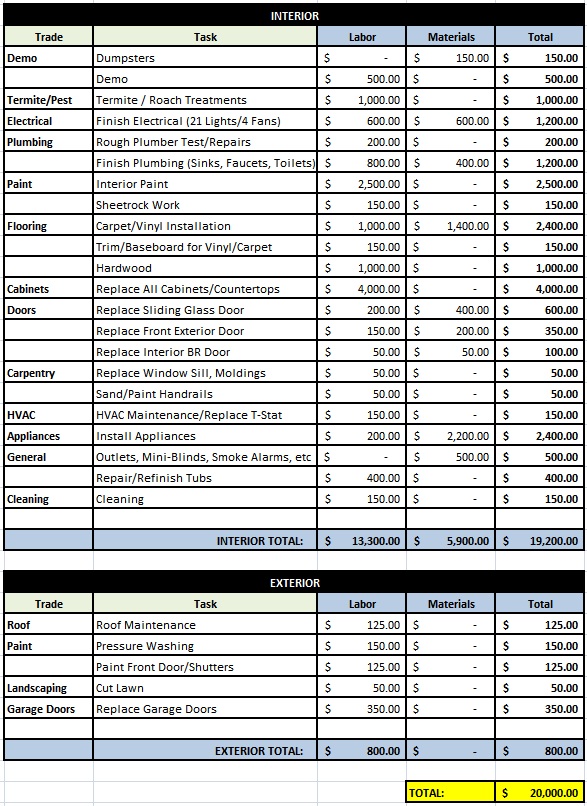 While I'd love to spend more to do some higher-end finishes (like hardwoods throughout the main level instead of just in the entryway), the issue we're going to have with this house is that it's not going to appraise for as high as we'd like. You see, the buyer can only get a loan for the amount of the appraisal; so, if the buyer is willing to pay $110,000 but the house only appraises for $100,000, the buyer can only get a loan for $100,000. In that example, the buyer would either have to come up with an extra $10,000 to cover the difference, or we'd have to lower the sale price by $10,000 (or compromise somewhere in-between).
Since most buyers these days don't have a lot of cash sitting around, we generally assume that if an appraisal comes in lower than the sale price, we'll have to lower the sale price to the appraisal price. So, the appraisal price is generally the highest we'll ever get for a property these days. And with this house, I have a feeling the appraisal will come in lower than what many buyers would be willing to pay, but that will still be the most we can get for the property. So, we need to make our budget decisions based on that restricted sale value.
In this case, if our rehab costs are more than $20,000, our profit will likely suffer. So, we've made our rehab plan based on that $20,000 budget. We'll try to get it to come in lower, of course, but given the extent of cosmetic renovations needed for this property, that probably won't happen. Hopefully there won't be any major surprises…
We expect this rehab to take about two weeks, which is pretty standard for our "full cosmetic" rehabs these days…