We closed on the sale of The Drought House today… (see all the financial results below)
We originally purchased this house out of "desperation"…we hadn't had a project in a while, and decided that we'd rather keep our contractors and ourselves busy, even if it meant possibly not making our minimum profit on the project ($15,000). In fact, running the numbers just before closing, it appeared that if the appraisal came in where I thought it would and if we had any issues with the rehab budget, we could be looking at a profit of less than $10,000, which — while not bad — isn't much money for the time and risk we're putting in.
Ultimately, everything came together perfectly from a financial perspective (see below), despite some rehab issues and despite another investor selling his property next door for below market. In fact, our hold time on this project was only 61 days, which is pretty close to the shortest amount of time we've ever held a fully-rehabbed property. This is thanks to a quick sale and a smooth closing process.
Here is the full final analysis for this one…
Timelines
Here are the key timeline milestones:
Purchase Offer Date: 7/16/2011
Purchase Closing Date: 8/25/2011
Rehab Completion Date: 9/13/2011
Sale Listing Date: 9/15/2011
First Sale Contract Date: 9/22/2011
Final Sale Contract Date: 9/22/2011
Sale Closing Date: 10/25/2011
Financials
Here is the breakdown of financials for this project: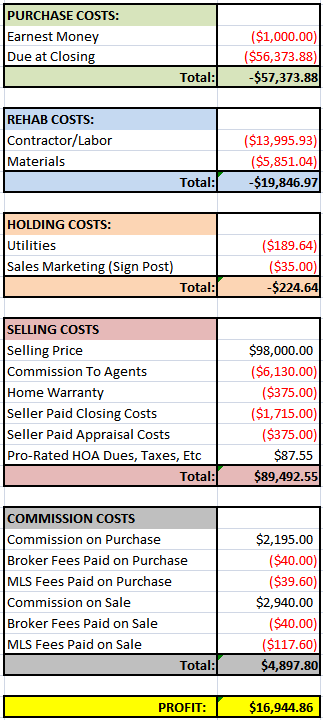 Our profit on this one was nearly $17K. We originally expected that — at most — we'd be making $15K, with a reasonable possibility that we'd be making closer to $10K if we didn't hit our budget or if the appraisal didn't come in where we expected it to. But, all things seemed to come together nicely on this project — the rehab came in on-budget, the offer we received was at the high-end of what we expected and the appraisals both came in at the contract price, which was a pleasant surprise.
From a financial perspective, we got very lucky on this project. Since this was a cash deal and we didn't borrow any money, our ROI was on the low side; but we only held this one for about 60 days, so our annualized return was decent; I'm certainly not going to complain… 🙂
Final Statistics
Here are just some of the final statistics that I've been tracking for all my projects, and that summarize the success/failure of each project pretty well:
From Offer to Purchase Time: 40 Days
Rehab Time: 14 Days
Selling Days on Market: 7 Days
Selling Close Time: 33 Days
Total Hold Time (Close to Close): 61 Days
Total Profit: $16,944.86
Return on Investment (ROI): 22.58%
Annualized ROI: 135.08%