We closed on The Wrong House today… (see all the financial results below)
This was a wholesale deal (which I bought it and sold it to another investor for a small markup without doing much of any rehab work). We got our first offer on this house last month, and we agreed to give the investor buyer a month to get her financing in order, even though we preferred to work with someone who was paying cash. As we feared, she couldn't get her loan, and backed out of the deal last Friday, the day we were supposed to close.
But, we put it back on the market last weekend, got an offer on Monday, and even though the new buyers hadn't yet seen the property, they were able to get through their inspections and due diligence in just a couple days, and closed today with cash. Yup, just five days from offer to close. That's also a benefit of having a great real estate closing attorney who was able to turn this around so quickly!
Anyway, it took longer than expected to sell this property, but between the $3000 we kept from the first buyer who fell through and the markup to the second investor, we did pretty well for a wholesale deal. And, I'm confident that the buyers still got a great deal for much less than the property is worth.
Here is the final analysis for this one…
Timelines
We only did a couple days of rehab work on this one, but held it for about 50 days between purchase and sale. Most of this time was waiting for the first buyers to close, which they never did.
Here are the key timeline milestones:
Purchase Offer Date: 4/21/2011
Purchase Closing Date: 5/12/2011
Rehab Completion Date: 5/17/2011
Sale Listing Date: 5/18/2011
First Sale Contract Date: 5/30/2011
Final Sale Contract Date: 6/27/2011
Sale Closing Date: 7/1/2011
Financials
Here is the breakdown of financials for this project: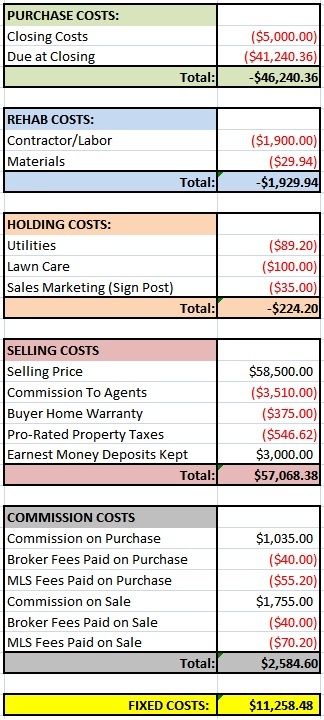 Our profit on this one was over $11K, which for a wholesale deal is great. The only downside is the relatively long hold time for a wholesale deal (and the fact that our cash was tied up for that entire time), but given that we didn't have any other projects that we needed it for, I guess it's not a big loss.
Final Statistics
Here are just some of the final statistics that I've been tracking for all my projects, and that summarize the success/failure of each project pretty well:
From Offer to Purchase Time: 21 Days
Rehab Time: 4 Days
Selling Days on Market: 40 Days
Selling Close Time: 4 Days
Total Hold Time (Close to Close): 50 Days
Total Profit: $11,258.48
Return on Investment (ROI): 23.%
Annualized ROI: 173.19%