We closed on The Horsey House today… (see all the financial results below)
I was confident from the beginning that this would be a very profitable deal, though I had it in the back of my mind that the deal seemed a bit too good to be true, and was always waiting for something to go wrong. Ultimately, nothing major went wrong, and the whole project ended up going flawlessly. The only real surprise was that the property was on septic instead of public sewer, and the septic system needed about $650 worth of maintenance.
Other than that, the rehab went smoothly and quickly, we stayed on budget, and the house went under contract in a short period of time. The most frustrating part of the whole project was waiting for the deal to close — the buyer's loan spent an extra month in underwriting, taking our total hold time from an estimated 55 days to a total of 86 days.
Here is the final analysis for this one…
Timelines
We had this one rehabbed and under contract in less than a month, but again, the closing took quite a while (2 months) which dragged out the entire project.
Here are the key timeline milestones:
Purchase Offer Date: 2/16/2011
Purchase Closing Date: 3/14/2011
Rehab Completion Date: 3/24/2011
Sale Listing Date: 3/25/2011
First Sale Contract Date: 4/10/2011
Final Sale Contract Date: 3/10/2011
Sale Closing Date: 6/8/2011
Financials
Here is the breakdown of financials for this project: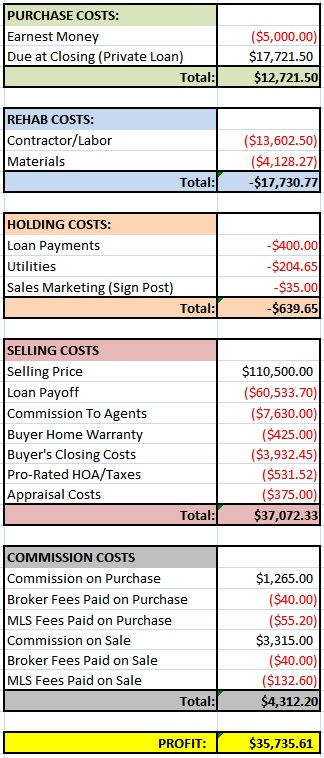 Our profit on this one was over $35K, and given how quickly and easily the project went, I'd consider this one of our most successful deals to date. Additionally, because we got a $60K loan on the project from a private investor — and because our total out-of-pocket expenses were not much more than the $60K we borrowed — our ROI on the small amount of cash we invested was tremendously high. Specifically, our ROI was nearly 800%, and our annualized ROI was nearly 3400%. I'll take that any day…
Btw, this is also the reason you see the $17K returned to us at purchase closing — the loan was for more than the purchase price, so we walked away from closing with $17K and used that cash for the rehab.
Final Statistics
Here are just some of the final statistics that I've been tracking for all my projects, and that summarize the success/failure of each project pretty well:
From Offer to Purchase Time: 26 Days
Rehab Time: 8 Days
Selling Days on Market: 16 Days
Selling Close Time: 59 Days
Total Hold Time (Close to Close): 86 Days
Total Profit: $35,735.61
Return on Investment (ROI): 797.83%
Annualized ROI: 3386.12%