As I mentioned a few days ago, The Horsey House renovation is complete and the property is listed for sale. In my original post about this house, I mentioned that rehab costs should probably come in below $15,000. I was off by a little bit on this one (see breakdown below), both because I forgot to include a few things and because we made some last-minute additions to the list of things we wanted to upgrade.
In terms of things I forgot to include, the major one was cleaning of the septic tank ($320). In fact, I didn't even realize the property was on septic (as opposed to public sewer) until just a few days ago. We're not used to having properties on septic, and the fact that this one was built in 2003, we figured it was connected to public sewer; we were wrong. We also missed the fact that we needed a couple of new outlets wired ($100) and we needed some landscaping done ($100). In terms of last-minute additions to the budget, our cabinet guy gave us a good discount for putting in all new bathroom vanities ($685) and an island in the kitchen ($635).
All of these items added nearly $2000 to the budget, and took us to about $16,500 overall. Here's the detailed breakdown: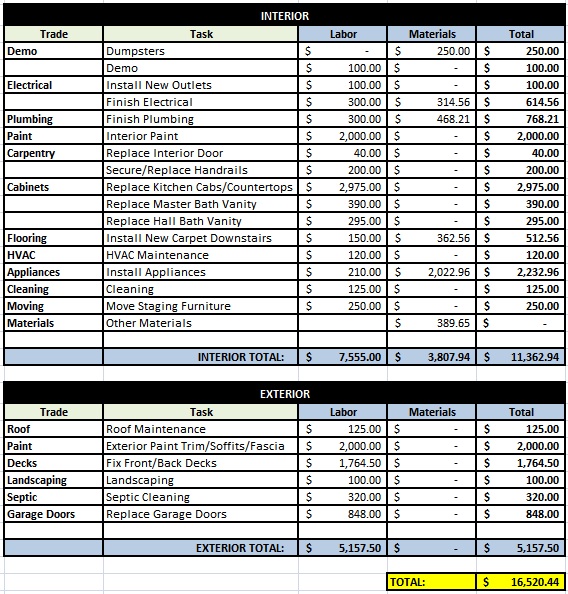 Overall, I'm happy with the work we did, the end-result and the budget…hopefully we'll get a quick contract on this one!