We sold The Trifecta House today (statistics and financial results below)…after a quick rehab (11 days) and a quick sale (4 days on market), it took about 6 weeks to get the deal closed. Given the total hold time of 62 days and a total profit of nearly $20K, I certainly consider this is successful project…
This was the second of three properties we've purchased in this subdivision. All three were purchased between $55-60K, needed between $13-20K in rehab, and are being resold in the $100K range. The first property we sold for $99,500 and were concerned that we wouldn't be able to get an appraisal for much higher than that; but ultimately, we were able to get two appraisals for $105K, which was the final sales price.
Here are our final analysis numbers:
Timelines
Like the first property in this subdivision, the rehab and sale were both very short on this deal. The longest part of the project was the 6 weeks it took to get the deal closed (the buyer was slow to get all his docs to the mortgage broker and then the underwriter made us jump through some hoops).
Here are the key timeline milestones:
Purchase Offer Date: 1/17/2011
Purchase Closing Date: 1/28/2011
Rehab Completion Date: 2/11/2011
Sale Listing Date: 2/12/2011
First Sale Contract Date: 2/16/2010
Final Sale Contract Date: 2/22/2010
Sale Closing Date: 3/31/2011
Financials
Here is the breakdown of financials for this project: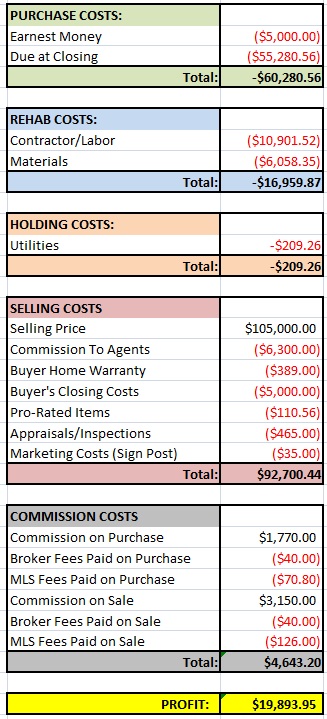 We will clear about $19,800 on this project (after including unpaid utility bills we're waiting to receive). Our ROI on this project was relatively low (about 26%) as we used our own cash for this project and didn't borrow/leverage at all. But, with the short hold-time, our annualized ROI was over 150%.
Final Statistics
Here are just some of the final statistics that I've been tracking for all my projects, and that summarize the success/failure of each project pretty well:
From Offer to Purchase Time: 11 Days
Rehab Time: 11 Days
Selling Days on Market: 10 Days
Selling Close Time: 37 Days
Total Hold Time (Close to Close): 62 Days
Total Profit: $19,893.95
Return on Investment (ROI): 96.24%
Annualized ROI: 154.46%