We closed on the sale of The Leak House today… (see all the financial results below)
This house was a good reminder about why we need to ensure that we don't get lazy about doing inspections and due diligence before we purchase. While we don't use inspectors anymore, we generally still inspect the property in detail ourselves before we make an offer or during the due diligence period. In this case, we got lazy and didn't bother to even turn the water on. The burst pipe and the leak in the bathtub that we found on day one of rehab cost us some extra money at the start of the project, and had we found these things earlier, we not only would have saved ourselves some effort, but we may have gotten the seller to concede some additional cost as well.
Anyway, a good reminder that we can't get lazy, no matter how many of these houses we do…
Other than the leaks, this project went very smoothly. The purchase took a couple extra months and the closing took a couple extra weeks, but with REO purchase and FHA buyers, neither of those is too uncommon these days; and we still kept our total hold time to under 3 months, so I'm happy about that.
Here is the full final analysis for this one…
Timelines
Here are the key timeline milestones:
Purchase Offer Date: 1/3/2011
Purchase Closing Date: 4/28/2011
Rehab Completion Date: 5/12/2011
Sale Listing Date: 5/13/2011
First Sale Contract Date: 6/8/2011
Final Sale Contract Date: 6/8/2011
Sale Closing Date: 7/21/2011
Financials
Here is the breakdown of financials for this project: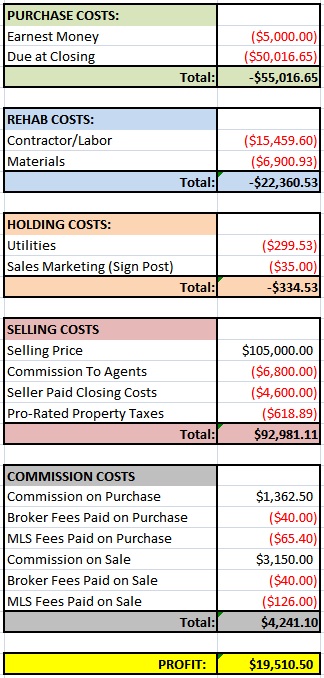 Our profit on this one was about $19K. We originally projected closer to $21K, but the appraisal came in about $5K low, and we split the difference with the buyer. Ultimately, this was a completely boring and typical project, which I'll never complain about — I don't need excitement when it comes to investing… 🙂
Since this was a cash deal and we didn't borrow any money, our ROI was a bit lower than normal, but our total profit was a bit higher…a reasonable trade-off in my opinion.
Final Statistics
Here are just some of the final statistics that I've been tracking for all my projects, and that summarize the success/failure of each project pretty well:
From Offer to Purchase Time: 115 Days
Rehab Time: 10 Days
Selling Days on Market: 26 Days
Selling Close Time: 43 Days
Total Hold Time (Close to Close): 84 Days
Total Profit: $19,510.50
Return on Investment (ROI): 25.52%
Annualized ROI: 110.89%