As of last week, The Leak House rehab is complete and the property is on the market. It was a pretty straight-forward project — other than the burst pipe that we didn't know about, the rest of the rehab went quickly and smoothly…
If you recall, our original budget goal for this rehab was $20,000, assuming we did a pretty exhaustive rehab (including new cabinets, new roof, etc). While we're normally pretty good about hitting our budgets these days, this one ended up going over. While we only went $1500 above our budget target, we didn't replace the roof, so that means we were actually off by about $5000 (the roof would have been about $3500, but our roofer said it was in great shape other than that one leak we repaired, so we opted not to do it).
Below is a side-by-side analysis of the projected budget versus the final budget: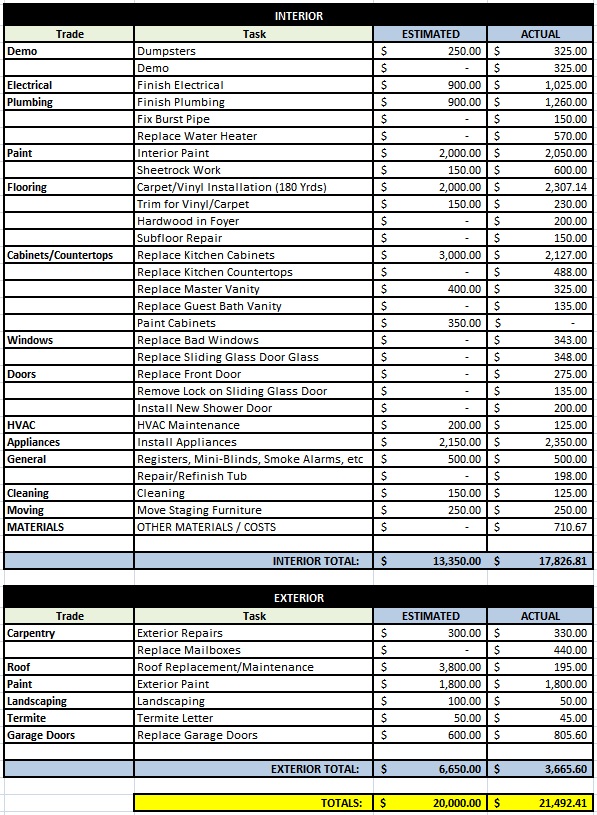 The bulk of the overages were just laziness in estimating. There were several things I completely missed in the original budget, including a few new windows, some hardwood flooring replacement, water heater replacement, replacing a shower door, etc. On top of that, we had a few unforeseen issues, including the burst pipe, replacing the jacuzzi tub hardware (that required us to cut into the fiberglass tub and then have to repair the fiberglass) and my accidentally destroying the mailbox (which is custom to the subdivision and cost $220 to replace).
Lastly, the company that supplies our dumpsters apparently destroyed our neighbor's mailbox when hauling the dumpster away. They didn't take responsibility for it (and there were no witnesses), but we're fairly sure it was them; so we replaced our neighbor's mailbox as well. At least we got a two-for-one discount on the mailboxes! 🙂