We sold The Lake House the other day (statistics and financial results below)…it's was a quick project that didn't require much work and barely generated our minimum profit target — but we'd do it again in a heartbeat…
As I've mentioned, this is the first of three properties we've purchased in this subdivision. All three were purchased between $55-60K, needed between $13-20K in rehab, and are being resold in the $100K range. While we could likely get a good bit more for these properties, there aren't too many comps in the area (other than the ones we're creating), so we're selling low, making a quick minimum profit, and giving our buyers a great deal.
This property was only on the market for two days before we got our first offer. In fact, we never even finished staging the property before we came to terms with the buyers!
Here are our final analysis numbers:
Timelines
The rehab and sale were both very short on this deal. The longest parts of the project were the two and a half weeks we waited to put in on the market (we finished rehab just before Christmas) and the 7 weeks we waited to get the deal closed after the contract was signed (this was a request by the buyer).
Here are the key timeline milestones:
Purchase Offer Date: 11/8/2010
Purchase Closing Date: 11/29/2010
Rehab Completion Date: 12/13/2010
Sale Listing Date: 1/1/2011
First Sale Contract Date: 1/3/2010
Final Sale Contract Date: 1/3/2010
Sale Closing Date: 2/23/2011
Financials
Here is the breakdown of financials for this project: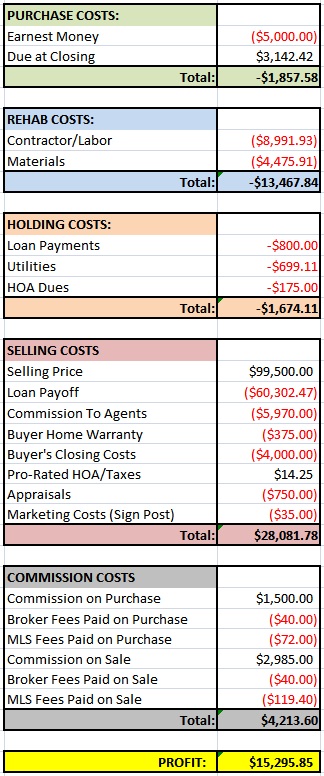 We will clear almost exactly $15K on this project (after including unpaid utility bills we're waiting to receive), which is our minimum profit target. Our ROI on this project was about 100% (we put in very little of our own cash on this project) and our annualized ROI was just over 400%.
Final Statistics
Here are just some of the final statistics that I've been tracking for all my projects, and that summarize the success/failure of each project pretty well:
From Offer to Purchase Time: 21 Days
Rehab Time: 13 Days
Selling Days on Market: 2 Days
Selling Close Time: 51 Days
Total Hold Time (Close to Close): 86 Days
Total Profit: $15,295.85
Return on Investment (ROI): 97.76%
Annualized ROI: 414.91%