We finished the rehab on The Lake House today… (will post AFTER pictures in my next post)
If you recall, our preliminary budget on this project was $12,500, with the first estimate broken down here…
Luckily, there were no major surprises, and we were able to stay on budget, coming in at just over $12,200. Here is the detailed breakdown: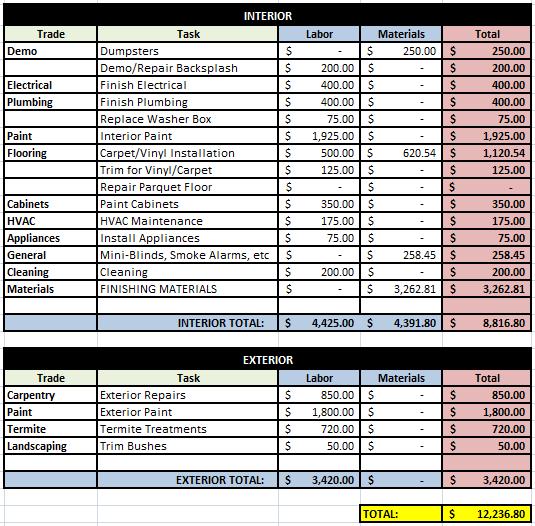 br>
We actually would have come in a few hundred dollars higher, but there were some decent appliances and light fixtures in the house that we removed, and our contractors were happy to give us a discount in exchange for their keeping the old materials (we normally just let our contractors take whatever they want, but in this case, they insisted on the price reduction — who am I to argue! :)).
In addition, our hardwood guy did some repairs on the parquet floors and didn't charge us (there was no material cost to him, so it was just his time), and the couple little extras we decided to do — removing the old, ugly backsplash in the kitchen, replacing the washer box in the laundry room, and some landscaping — canceled out the discount we got from our contractors.
We'll spend another $250 to move the staging furniture into the house, which will put us right about $12,500 for our all-in rehab costs (we count moving/delivery as a rehab cost), so even with that, we're on budget. Hopefully, we'll have the property staged by the end of the week and on the market for the weekend. That said, during this time of year — and especially given the very cold weather we're having — we don't expect much traffic until after the new year.
I'll post AFTER pictures in my next post and some final STAGING pictures at the end of the week…