As mentioned in a previous post, The Bulge House will be used as a rental for a family member, and from closing to move-in, I have 2 weeks to get the place ready. This includes getting the major things fixed (A/C, Furnace, Water Heater, Roof), getting the finishings completed (new lights, fans, appliances, doorknobs, bathroom upgrades, etc), getting the place painted, and getting the place cleaned, inside and out (including steam cleaning, landscaping, etc).
While two weeks seems like a lot of time to do all this, keep in mind that scheduling contractors isn't always an exact science. For example, the plan was to start on replacing the roof three days ago, but it's been raining all week, and roof work doesn't happen in the rain. All that said, here's the schedule I put together for this rehab project:
By 8/24: Replace A/C, Furnace, Water Heater
By 8/25: New Roof
By 9/1: Interior Painting
By 9/3: All GC Work Completed
On 9/4: Cleaning Crew
On 9/5: Steam Cleaning Carpets
By 9/5: Landscaping
By 9/7: Exterior Painting Complete
By 9/7: Exterminator Inspection
The A/C, Furnace, and Water Heater have been replaced, and the roof should be completed today (barring any more rain). The painting is scheduled for this weekend, the GC has agreed to spend Tuesday at the house, and the cleaning, landscaping and steam cleaning crews are scheduled. This just leaves scheduling the exterior painting and exterminator, neither of which are high priority before my tenant moves in (I'm not sure the exterminator is necessary, but I want to do a termite inspection).
So, while the schedule is tight, things are on-track…
In terms of budget, my original rehab estimate was $12,000, and based on the fact that a family member will be moving in to this property, my revised rehab budget was $14,900.
Here's how the numbers currently look: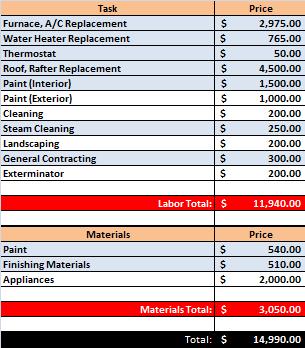 The blue highlighted items are those that have already been purchased or contractually agreed upon. It appears that I'm within a few dollars of being on budget for this project, which is great considering this will be the first rehab I ever finish. Hopefully by the end of next week I can report that the rehab is complete and my budget is still intact.
Here are some pictures of the new roof going on: