Now that The Bulge House is officially on the market, I decided to do my final accounting to determine how much I've spent to both purchase and rehab this property (which I can then use to model my profit based on my holding and selling costs). While I didn't define a formal budget for this rehab (because I originally planned to rent this one), I have considered rehab numbers between $24K and $25K.
Now, had I actually done all the work I was planning to do prior to putting this one on the market, I likely would have spent almost that much. But given the last minute change of plans (trying to sell instead of rent), we decided not to do as much updating of the kitchens and bathrooms as we had originally planned.
All that said, here are the final purchase and rehab costs spent on The Bulge House: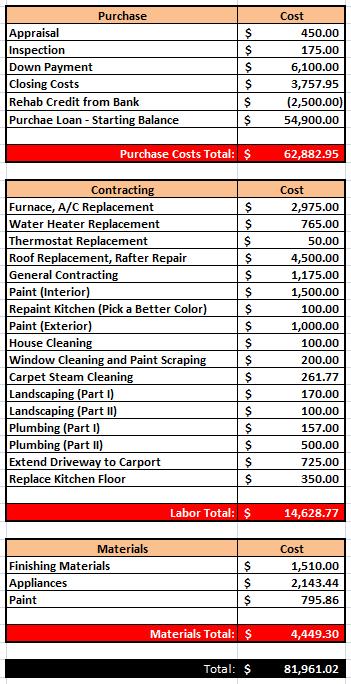 My total purchase plus rehab costs on this project are just under $82K, and based on the outcome of the property, I'm quite pleased. I don't think I'll be able to sell this one quickly, so I'm expecting to have to pay holding costs on this property for at least a couple months (if I sell to an FHA buyer, I'll need to put off closing for another 8 weeks — more on that in a later post). Given my $530/month mortgage and escrow payment, and another $150-200 per month in utilities, that's another $3000 in holding costs. So, assuming I sell this one around the end of the year, my all-in cost will be on the order of $85K.
I'll go into more detail on my likely profit in another post, but all-in-all, I should make some money on this one…it's in my agent's hands now…
Btw, it's also worth noting that the total rehab time from closing to relisting was only three and a half weeks, so I'm quite pleased with that as well!