As of this morning, The Bulge House is officially sold!
It's been both fun and educational going through my first complete cycle of flipping of a house, and I can honestly say that I've learned more in the past several months than I ever expected I could.
Now that The Bulge House is officially sold, it's time to do a final review of the project to determine where we succeeded, where we failed, and ultimately how much money we made (or lost). Here is the run-down, with the final set of statistics at the bottom…
Timelines
Because I had originally planned to rent this house, my first stab at a schedule and budget really weren't representative of the work we ended up doing, so it's difficult to tell if this project was a success from a schedule standpoint. That said, the total time from purchase offer to closing was only three weeks, the total time from purchase to listing for sale was under a month, the house was put under contract in less than 8 hours, and the total time from contract to sale closing was just over a month; I'm tremendously happy with all those numbers.
Here are the key milestones from this project:
Purchase Offer Date: 8/1/2008
Purchase Closing Date: 8/21/2008
Rehab Completion Date: 9/15/2008
Sale Listing Date: 9/15/2008
Sale Contract Date: 9/15/2008
Sale Closing Date: 10/20/2008
Most amazing is that the total time from the closing of the purchase to the closing of the sale is less than 60 days. I may never accomplish this on a full rehab again…
Financials
Again, because I had originally planned to rent this house, I didn't have a set budget for the rehab we ultimately did. So, while I can't claim that I was either under- or over-budget on this one, I'll let the final financial results speak for themselves.
Here is the breakdown of financials for this project: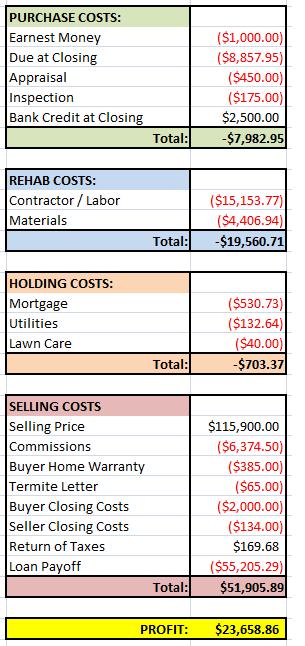 While these numbers don't reflect the final holding costs (last utility bills have not been received), nor do they reflect the refunds for things like insurance over-payment and escrowed funds, the final results should be within about $50 one way or the other.
Considering my overarching goal for each of my flips is to profit at least $15,000, I'm quite happy with my $23,668.86 profit. Especially considering this was earned for under four weeks of rehab effort! In terms of ROI, my total investment into this property (Purchase Costs, Rehab Costs, Holding Costs) was $28,247.03; this puts my ROI at just over 83%, and adjusted for the time this project took, my annualized ROI is nearly 510%.
Final Statistics
Here are just some of the final statistics that I'll be tracking for all my projects, and that summarize the success/failure of each project pretty well:
From Offer to Purchase Time: 21 Days
Rehab Time: 25 Days
Selling Days on Market: 0 Days
Selling Close Time: 35 Days
Total Hold Time (Close to Close): 60 Days
Total Profit: $23,668.86
Return on Investment (ROI): 83.76%
Annualized ROI: 509.52%