As I mentioned in yesterday's post, we've set a budget goal of $34,500 for The Flood House…
If we overrun this budget, we run the risk of missing our profit goal, especially considering the how hard it may be to sell a property that was recently flooded. And given the risks on this project, overrunning the budget is a real possibility, as I'll explain below…
First, here is the preliminary budget for this project (with more detail below):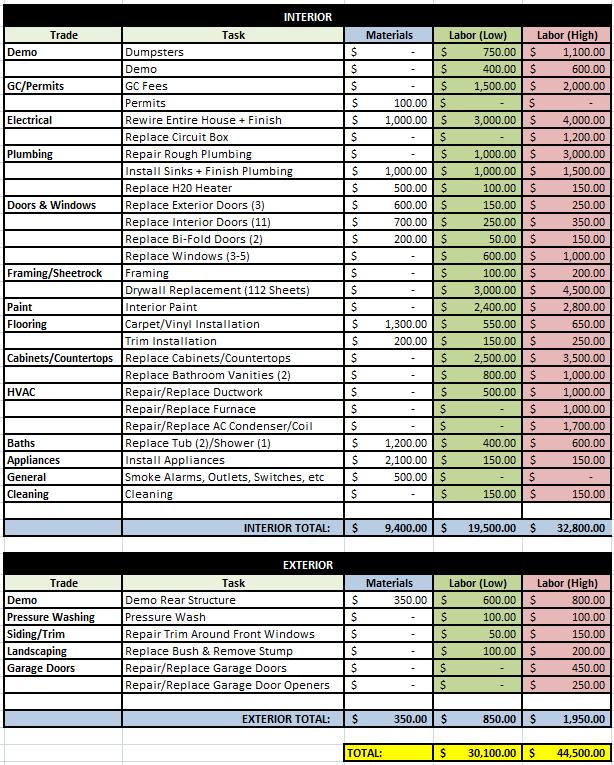 As you'll notice, I include a budget range, and for this project the range is pretty big (between $30-45K!). Generally, even on our bigger rehabs (those where we spend $60K+), my low-to-high range is within a few thousand dollars, but this project has some new challenges for us and poses a lot of questions that can't be answered until we get contractors in to take a look and get far enough along in the rehab that we can turn on the utilities.
Specifically, here are some of the questions we need answered before we can nail down our budget:
It's unclear how much of the electrical wiring was under water when the house was flooded. Most likely, any wiring under water will have to be completely replaced (by code), and if the breaker box was underwater, that will need to be replaced as well. So, electrical work could be anywhere from $4-6K. We have the city electrical inspector coming to the property tomorrow to tell us exactly what needs to be done (they already told us that they treat flood houses a bit differently than standard renovations), so hopefully by the weekend we'll nail down our electrical quote.
The plumbing lines and drains run under a concrete foundation, and many of the drains are filled with debris. In addition, it appears a lot of the plumbing lines were cut for reasons we can't figure out (and were cut very close to the foundation, making it tough to just attach new lines). We need to get our plumbers to take a look to determine how bad the drain problem is and whether the cut lines need to be replaced below the foundation line or whether they can be repaired. Because I've never dealt with plumbing beneath a slab before I really don't know what to expect in terms of budget. So, I've estimated $1-3K. I know it could be higher if we need to dig up the concrete, but if that's the case, we'll easily blow our budget and will have to go back to the bank to ask for a discount on the purchase price. We have several plumbers coming to bid over the next couple days, so we also hope to have a good idea of the plumbing budget by the weekend.
Until we get the rewiring done and the electricity turned on, we have no idea how much HVAC work we have to do. The furnace is likely in good shape (the house is only 10 years old and the furnace wasn't touched by the flood waters), but the outside condenser was most likely under-water during the flood, so we don't know if that will need to be replaced. If it does need to be replaced, we may or may not have to replace the coil as well. In total, the HVAC costs could be anywhere from $500-3700.
Our sheetrock guys generally deliver, install and prep-for-paint for about $1 per square foot (labor + materials). This is consistent with other quotes we've gotten in the past. But, we got another quote on the sheetrock today that came in at $.55 per square foot. The guy is licensed and insured and certainly knew what he was talking about, but the price seems way too good to be true (it's tough to make any money at that price after purchasing materials). Depending on whether I go with the low price, my current guys or find someone else in the middle, sheetrock could cost anywhere from $3000-4500, a big range.
Normally, we'd pay about $4300-4500 for cabinets (kitchen and bathroom), countertops and installation for a house this size. But, to keep costs down, we're considering going a little lower-end on the cabinets. We're talking to another supplier that could come in closer to $3100-3300, but haven't decided which way we plan to go.
The garage door and opener both look good, but until we get the electricity on, we can't test them. I expect there not to be any cost there, but if they both need to be replaced, that's another $700.
We have a 10 day inspection period for this property, so if the numbers come back on the high-end of the range, we do have the option to back out of the deal. We have several contractors scheduled to come by the property over the next several days, so hopefully we'll have more info by the end of the weekend…assuming we decide to move forward with the project, I'll post a budget update early next week…