If you've been following the blog the past couple weeks, you know we've been working hard to nail down the rehab cost estimate on The Flood House…
We're scheduled to close on the purchase of this property tomorrow, so for the past week or so, there's been a big push to get final bids and contracts signed with our contractors. For the most part, we're pretty close, but given the complexity of this project (with the recent flooding, there have been changes to the building codes for these types of houses) and the unknowns (we can't get even get the electricity on until the house is rewired), it's possible we're going to miss some things in our planning.
Our goal for this budget was $34,500, and after getting most of our bids — and estimating the remaining items that can't yet be bid — it turns out we're under that target by a few hundred dollars: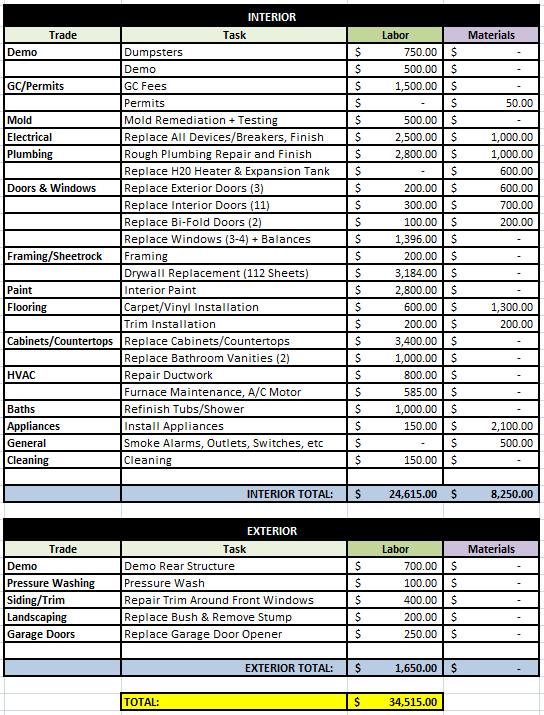 Of course, I expect at least a few little surprises on this project, so I wouldn't be too surprised if the number goes up a little bit. If we find that we're still on budget towards the end of the project, we may opt to put hardwood floors in the main living areas (living room, dining room, kitchen), though this would likely add another $2000 or so to the budget. We'll make that decision when we have a better idea of where our budget will ultimately come in.
In my next post, I overview our schedule for this project, and hopefully I'll be able to tell you that we've closed on the purchase and started the rehab…