As it appears The Haggle House may be our first long-term rental, and given the questions a couple readers have posed, I wanted to spend this post going through the financial details of this particular rental opportunity…
(Note: If you only care about the numbers, feel free to scroll down to the spreadsheet further down this post.)
First, let me review the financial details of the purchase and rehab of this project (for a full tutorial on financial analysis, check out this article):
Purchase Price: $43,500
Closing Costs: $2,000 (only incurred at time of refinance)
Rehab Costs: $6,500
Financing: 65% LTV, 7.0% Interest, 15 Year Amortization, 3 Year Balloon
The total cost of the purchase and rehab will be $50,000, and once the rehab is complete, I will do a refinance with the terms above. I will refinance 65% of the $50,000 investment, to take a total cash-out of $32,500. My remaining out-of-pocket investment will be $17,500, with another $2,500 in closing costs.
So, my total out-of-pocket cash investment will be right about $20,000.
My monthly income and expenses should break down as follows:
Income / Rental Rate: $900/month (estimated)
Vacancy: 8.3% (1 month per year)
Property Taxes: $1400/year ($116/month)
Insurance: $400/year ($33/month)
Maintenance: $900/year ($75/month)
Property Management: $1200/year ($100/month)
Mortgage Payments: $292/month
A couple notes about the items above:
$900/month in rental income is estimated. Realistically, it could be anywhere from $850-950, or even up to $1050 if I rented to Section 8 tenants.
I haven't budgeted for capital expenditures (like new roof, new HVAC, new water heater, etc) because the house is only 6 years old, and because I don't plan to hold it for more than 3-5 years. So, no capital expenditures should be required before I sell.
We will be doing property management in-house. I will be paying $100/month for one of my employees to manage the property.
I've talked previously about the 50% Rule — that on average, a good rule of thumb is that total expenses plus vacancy will be around 50% of income. In this case, expenses are about 44% of income, which given that our capital expenditures should be low, given it's a relatively new property and given that we're doing our own property management, seems about right.
Based on the numbers above, our analysis breaks down as follows: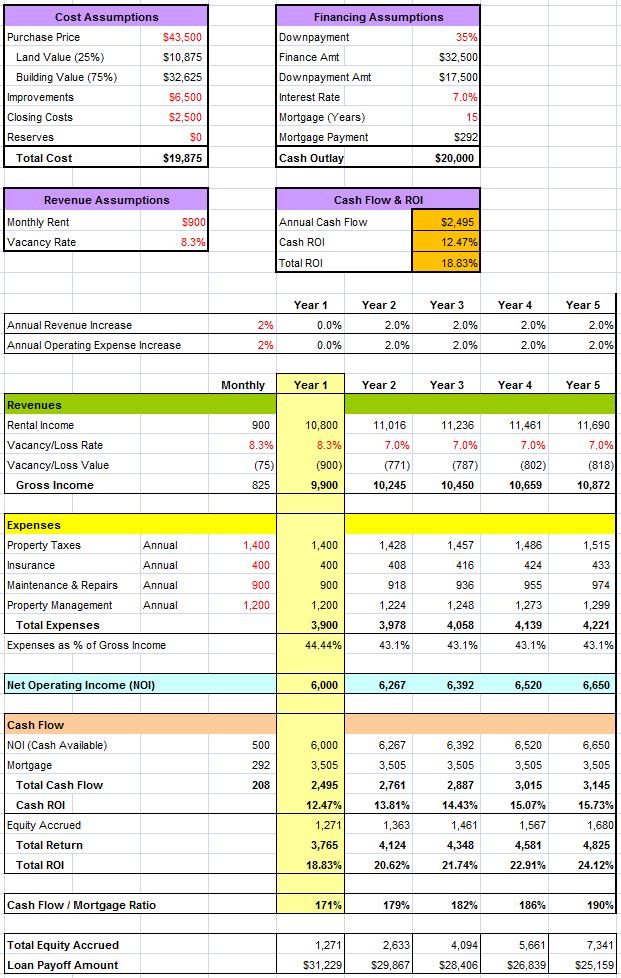 Ultimately, we'll see cash flow of about $200/month, our cash-on-cash return will be somewhere around 12.5% and our total return will be about 19%.
While these numbers are decent, they're not spectacular. But, I believe the real potential of this property is in the short-term appreciation. Because this property is located near last year's major flooding (estimated at a 1 in 500 year flood), there is a stigma associated with the area and it's difficult to find buyers interested in the location. But, I think that will change once the memory of the flooding fades and people are more willing to purchase in this part of the city.
After rehab, I have a feeling ARV will be somewhere in the $75K range; but in 3-5 years, ARV could potentially be closer to $120K. Of course, if we don't see the appreciation we're hoping for, the property still cash-flows nicely, and we'll still be making money holding it as a rental.